3rd episode of the series on Incredible India titled "The Potential of Tourism in Employment" to be be held on 30th October 2021
New Delhi: On the eve of India's 75th Independence Day celebration on 14th August 2021, the Ministry of Tourism in collaboration with the Association of Indian Universities (AIU) held a webinar and during the webinar, a series of 12 episodes was launched that will take the participants on a virtual journey of Incredible India. On  30th October 2021, 3rdepisode of the series titled"The Potential of Tourism in Employment" will be held.
In the journey of AKAM, the Ministry of Tourism is focussing on children and youth to get more acquainted with India's glorious past and a grand future. The children and youth are strength and power of our incredible countrywith strong rooted cultural values and to take India ahead on the path of global leadership.It is vital that they are made aware of the strength of the diversity of our Nation and varied employment opportunities lies in the tourism industry.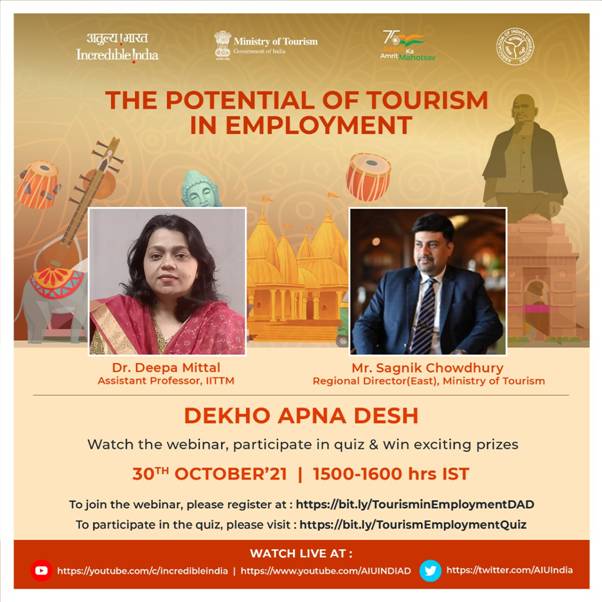 In this 3rd episode, the thrust will be on the role of employment generation in tourism.As Tourism plays a vital role in creation of employments in direct and indirect sectors. It is a major engine for job creation and a driving force for economic growth and development. The Ministry of Tourism is continuously working on different verticals for overall development of tourism in the country and skill development is one of the prioritised segment by the Ministry to facilitate the tourism growth. Dr. Deepa Mittal, Assistant Professor Indian Institute of Tourism and Travel Management and Mr. Sagnik Chowdhury, Regional Director (East), Ministry of Tourism will be discussing the potential of tourism in employment and sharing their experiences in this episode.
The webinar will be followed by quiz and the participants can attempt a quiz based on the webinar. The participants will be rewarded with Participation Certificate and surprise prizes for the "fastest" 1000 winners. Two separate links to join the webinar at 03.00 pm and to attempt the quiz are below:
Link to join the Webinar on 30th October 2021 (Saturday) at 1500 hrs :
Please register at :
https://bit.ly/TourisminEmploymentDAD
Link to participate in the quiz (Terms & conditions apply)
Please visit : https://bit.ly/TourismEmploymentQuiz
Watch Webinar LIVE AT :
https://youtube.com/c/incredibleindia
https://https://www.youtube.com/AIUINDIAD
twitter.com/AIUIndia
Follow Incredible India:
Facebook – https://www.facebook.com/incredibleindia/
Instagram – https://instagram.com/incredibleindia?igshid=v02srxcbethv