7th International Day of Yoga observed worldwide with great enthusiasm
New Delhi: The annual celebration of health and fitness 'International Day of Yoga' (IDY) was observed today with great enthusiasm all over the world. The adverse situation created by Covid-19 pandemic failed to dampen the spirit of the Yoga enthusiast as lakhs of women, men and children led by President, Vice-president and Prime Minister performed Yogasanas in confines of their home.
Key dignitaries also participated in IDY observances with The President Shri Ramnath Kovind practicing Yoga in the lawns of Rashtrapati Bhavan. He tweeted that Yoga is our ancestor's vision of bringing mind-body together to achieve holistic health and happiness which has benefited millions over millennia.
Vice President Shri M. Venkaiah Naidu performed Yoga with his spouse on the occasion of IDY 2021. He said that the pandemic made the world realise the importance of overall well-being and Yoga is one simple yet powerful practice that helps us build resilience and improves our health holistically.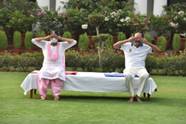 On this occasion the Prime Minister, Shri Narendra Modi said that despite the pandemic, this year's theme for International Yoga Day – "Yoga for wellness" has raised the morale of people and he wished for health of every country, society and individual and hoped that we will be united and will strengthen each other.
The Prime Minister talked of Yoga's role during the pandemic. He said Yoga has proved a source strength and poise for people during this difficult time. He pointed out that it was easy for countries to forget Yoga Day during the pandemic as it is not intrinsic to their culture but, instead, enthusiasm for Yoga has increased globally. Yoga helped people to muster confidence and strength to fight with the pandemic world over.
The Prime Minister recalled how frontline Corona warriors made Yoga their shield and made themselves strong through yoga and how people, doctors nurses took to Yoga to deal with the effects of the virus.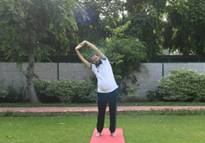 Union Minister for Information and Broadcasting Shri Prakash Javadekarpracticed Yoga at his residence in Delhi.
Union Minister of Health and Family Welfare Dr. Harsh Vardhan joined citizens of his constituency to observe the 7th International Day for Yoga at the Maharaja Agrasen Park, Kashmere Gate in Delhi. With a thinly populated crowd maintaining social distancing while doing Yoga, the exercise was symbolic in nature to reinforce the message of "Yoga for Wellness". The Health Minister noted that although the celebrations are muted compared to previous years due to COVID protocols, the importance of Yoga has grown multifold in the conscience of the public for its role in promotion of Holistic Health.
Minister of State for Culture and Tourism (I/C), Shri Prahlad Singh Patel performed yoga at the historic Red Fort in Delhi. The Union Minister was leading the drive"Yoga, An Indian Heritage" as a part of "Azadi ka Amrit Mahotsav" campaign. The program was organisedat 75 cultural heritage locations with the active participation of all institutions/bodies of the Ministry to commemorate 75 years of Independence. Considering the current pandemic situation, the number of participants for Yoga was restricted to 20 at each site.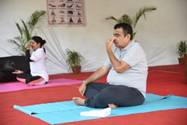 The Ministry of Women and Child Development also observed the 7th IDY. In a tweet message, Smt. Smriti Zubin Irani said, "7 years to this day global recognition was bestowed upon India's rich legacy for holistic wellbeing in the form of IDY. This year theme 'Yoga for Wellness' is now more relevant than ever, let us adopt Yoga in our daily lives for overall mental and physical fitness." To maintain social distancing norms due to the ongoing Covid-19 pandemic problem, all the officers and officials of the Ministry participated in commemoration of the seventh International Yoga Day by watching and observing the Yoga program which was telecaston Doordarshan channel today from 7.00 Am to 7.45 AM.
On this occasion, the Minister of State for Ayush, Shri Kiren Rijiju congratulated everyone on the observance of the 7th International Day of Yoga, and highlighted the gains it has made globally since its recognition in 2014. He mentioned how Yoga is not just seen as a practice native to India, but India's gift to the world, which has been accepted as their own by everyone.
Minister for Road Transport & Highways Shri Nitin Gadkari participated in the programme'Yoga an Indian Heritage' Campaign at Nagpur. He also addressed the webinar on the IDY and said that Yoga eliminates all diseases and discomforts from lives of people.
The importance of Yoga for Improving Heart Health was also highlighted at a webinar organized by the Department of Science and Technology. Ministry of Textiles also celebrated the 7th International Day of Yoga.The programme commenced with practice of yogasanas by the Ministry officials, which included Secretary, Ministry of Textiles, Shri Upendra Prasad Singh and other senior officers.
Minister of State for Education Shri Sanjay Dhotre launched NIOS Diploma course in Yogic Science today. The Minister released the self-instructional material of the course. Highlighting about the significance of Yoga, Shri Dhotre said it has resulted in creating many employment opportunities. The course in Yogic science will help those who pass out of the course to become a job provider rather than a job seeker.
The Union Minister for Minority Affairs Shri Mukhtar Abbas Naqvi Performed Yoga in his hometown Rampur in UP.
Directorate of Publications Division of the Ministry of Information and Broadcasting has reprinted the revised edition of Yoga Sachitra on the occasion of the 7th International Day of Yoga.
PSUs under Ministry of Power, National Thermal Power Corporation and NHPC Limited celebrated the 7th International Day of Yoga across all its Power Stations, Projects and Regional Offices with full enthusiasm.
Indian Grid Operator POSOCO, CPSU under Ministry of Power also observed7th IDY with over 600 employees and their families connecting via online. Power System Operation Corporation held this Yoga session in association with Art of Living.
Paradip Port Trust also observed the 7th IDY virtually with great enthusiasm. Shri A.K. Bose, Dy. Chairman, PPT inaugurated the event.