Brown junior John Lin named one of the nation's 58 Truman Scholars for 2022
 On a Friday afternoon in early April, Brown junior John Lin was going about his normal day on campus when he was asked to join President Christina H. Paxson, leaders from the College, and a few faculty members in a University Hall office suite. His jaw dropped as they surprised him with the news that he'd be named one of just 58 Harry S. Truman Scholars nationally for 2022.
Awarded annually to selected college juniors across the United States, the prestigious scholarship recognizes students who demonstrate exceptional academic ability and commitment to public service.
"I didn't know how to respond," said Lin, who has a double concentration in biology, and health systems and policy, the latter of which he designed himself as part Brown's Open Curriculum. "I was breathless."
The 58 new Truman Scholars were selected from 705 candidates nominated by 275 colleges and universities. Truman Scholars receive $30,000 for graduate study intended to prepare them for careers as public service leaders. They also receive leadership training, career and graduate school advising, and internship opportunities within the federal government.
"We are thrilled that John received the Truman Scholarship," said Linda Dunleavy, associate dean of the College for fellowships. "An independent concentrator with demonstrable success in addressing the needs of underserved populations in health care and beyond, John exemplifies the self-motivation and service orientation that the Brown curriculum cultivates and that the Truman scholarship honors and seeks to further nourish."
After the news sank in, Lin said he felt a sense of gratitude knowing that his goal of attending graduate school to earn an M.D. and a master of public administration with a focus on health equity would come with less of a financial burden. "I'm very fortunate," he said.
Lin said he hopes to treat patients and work in health policy and administration after medical and graduate school to drive efforts to improve health care access.
"I think that is incredibly critical if we want to have an effective, modern health care system that actually serves Americans," he said, explaining how his parents experienced the challenge of paying for health care after they immigrated to the U.S. "It's something my family has struggled with. It's something I know so many people have struggled with."
As a student at Brown, Lin has taken courses spanning a wide variety of academic interests, from Political Organizations and Social Change in America, to Structure of the Nervous System.
"It's this long journey, but Brown has really shaped it starting in the beginning of my freshman year all the way to now," he said. "It almost definitely would not have been possible to create your own independent concentration at any other school."
"It's this long journey, but Brown has really shaped it starting in the beginning of my freshman year all the way to now. It almost definitely would not have been possible to create your own independent concentration at any other school."
 Brown junior and 2022 Truman Scholar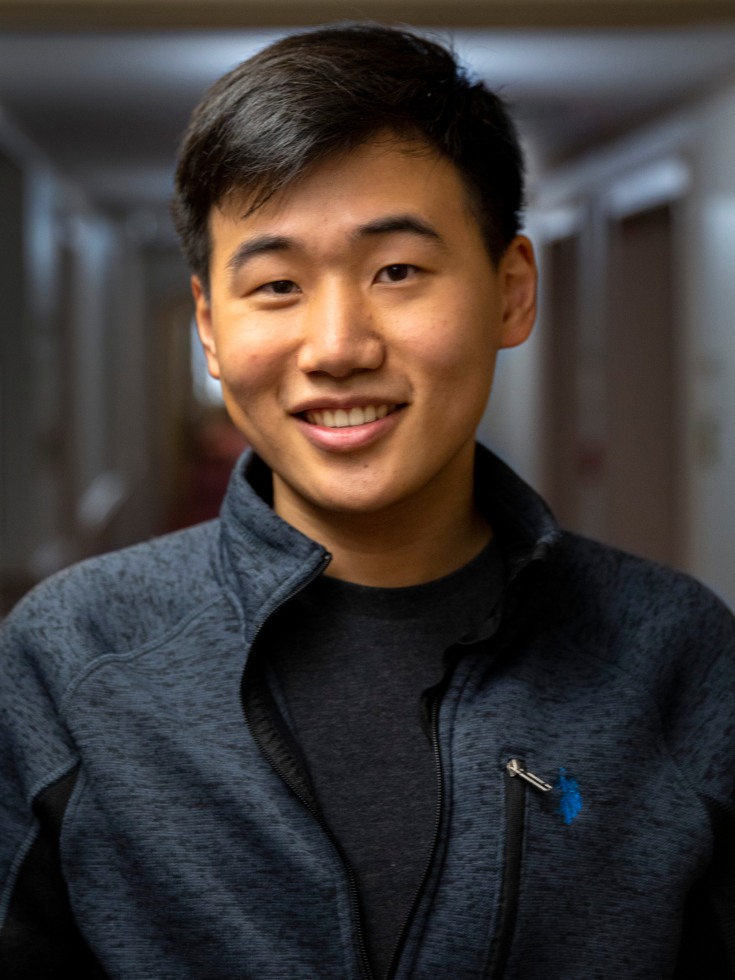 Outside of the classroom, Lin has conducted research through assistantships at the Warren Alpert Medical School, School of Public Health, and Watson Institute for International and Public Affairs. He has served on the advisory board for the University's Student Accessibility Services office, contributed to the Asian/American Political Alliance, and shaped recommendations for university policy, governance and student life as a representative on the Brown University Community Council. Currently, he is senior polling director for the Undergraduate Council of Students, where he led a fall action poll and is leading the publication of UCS's poll report.
Lin said he has had many supportive mentors at Brown, including Margaret Weir, a professor of international and public affairs and political science; Dr. Paul Greenberg, a professor of surgery at Brown's Warren Alpert Medical School at Brown; and David Berson, a professor of medical science and neuroscience.
"The professors here are very passionate about what they're researching, what they're teaching," Lin added. "It's incredibly collaborative, and I love that."
Bringing to live Brown's commitment to making a positive impact in its own community, Lin founded and continues to serve as executive director of the Medical Literacy and Access Project in Rhode Island, a multi-institution collaborative initiative that strives to increase access to medical care and information for underserved and non-English speaking communities.
In Texas, where his family is originally from, Lin was elected to serve on the governing council of the Texas Public Health Association as student section chair, a position dedicated to expanding professional development opportunities and supporting community service projects. And while serving as a legislative aide for State Representative Hubert Vo, he proposed and wrote a resolution denouncing anti-Asian hate that, despite initially facing opposition, eventually passed unanimously in the Texas House of Representatives.
Dunleavy said all of those experiences point toward a life of impact as Lin completes his studies at Brown and moves toward his career goals.
"Receiving the Truman signifies that the foundation shares Brown's confidence that John Lin will be a significant agent of positive change in the fields of medicine and health policy in the future," Dunleavy said.