Brown University fully funds $10M endowment to support Providence public schools
As part of a pledge made after its groundbreaking 2006 report on the University's historic ties to slavery, Brown University has fully funded a commitment to establish $10 million in endowed funds to support current and future generations of Pre-K-12 students in Providence.
Brown's governing board, the Corporation of Brown University, authorized this month the designation of $8.1 million in unrestricted University-endowed funds to complement $1.9 million raised over the years from donor support, achieving full funding for the Fund for the Education of the Children of Providence.
As one element in a wide-ranging partnership between the University and the Providence Public School District (PPSD), the Fund will advance initiatives to improve teaching and learning in Pre-K-12 classrooms, ensure access to high-quality education for city students and support PPSD's Turnaround Action Plan.
"Every student in Providence deserves access to a first-rate education that provides a foundation for successful lives and careers, whatever path they might choose," said Brown President Christina H. Paxson. "The Fund's permanent $10 million endowment will ensure sustainable financial support from Brown, enable continuous improvement to teaching and learning in Providence, and play an important part in promoting academic excellence and student success for generations to come."
"This is a historic moment in the community's commitment to the students and families of Providence," said Rhode Island Education Commissioner Angélica Infante-Green. "We are grateful for the generous support of Brown University, and we look forward to working in partnership with President Paxson and her team as we work to transform Providence schools. What's more, we hope Brown's commitment inspires Rhode Island's corporate and philanthropic leaders to contribute even more to this compelling cause."
After decades of disappointing student performance, Infante-Green assumed control of PPSD in November 2019. "Turning Hope Into Results: A Turnaround Action Plan for the Providence Public School District" was released in June and sets ambitious goals for change and student achievement in the city's schools. The plan was informed by an extensive community engagement effort, and its implementation will depend on a concerted effort to remain engaged with the families and neighborhoods of Providence.
"I am deeply gratified that President Paxson and Brown University have continued to take a leadership role in supporting the educational needs of the city's student body," said Harrison Peters, turnaround superintendent of Providence Public Schools. "The Providence Public School District and Brown University share a common belief that the welfare and education of our young people are the collective responsibility of the entire Providence community. I am excited about the prospect of future collaborations and their positive impact on our schools."
In a July 29 letter to the Brown community announcing the fulfillment of the $10 million funding goal, Paxson said a new oversight committee including campus and community stakeholders will be established to recommend use of the funds in ways that can most benefit Providence students. She noted that an upcoming project supported by the Fund will transform Hope High School's library and media center, creating a 21st century learning environment for students in the Providence secondary school.
"It truly takes a village to raise a child, and it will require the support of every community member to ensure that Providence students receive the 21st century education they need to succeed," said Mayor Jorge O. Elorza. "Under President Paxson's leadership, Brown University has continued to work closely with the city and the Urban Innovation Partnership to identify needs within our local education system. I am excited to see the ways in which this fund will support the long-term and impactful changes we hope to see, like supporting innovative programs that encourage holistic growth, in Providence Public Schools."
Since 2009, the Fund has provided financial support to PPSD schools and students for technology, supplies, musical instruments and scholarships for college-bound students from underrepresented groups. While Brown has progressively raised funds toward the $10 million goal since the Fund's establishment and — independent of fundraising — had dedicated more than $800,000 annually in financial support for local schools and students, Paxson said the need to do more became acute in 2019. That year, an external review of PPSD schools by the Johns Hopkins Institute for Education Policy identified serious challenges with teaching, curriculum, morale, safety, governance and physical infrastructure, and led to the state's intervention.
Brown's actions to fulfill the Fund's $10 million goal, create an oversight committee and launch the Hope High School project follow discussions with local education leaders to identify ways for the University to focus and strengthen support for efforts to improve public education.
As an endowment, the Fund will provide for annual spending in support of specific initiatives. With $10 million in principal, Brown expects an initial payout of approximately $400,000 to $500,000 annually. While this will serve as the core of consistent financial support from the University, Paxson said that Brown will continue to invest in the wide range of existing programs and initiatives that support Providence schools and students.
Every student in Providence deserves access to a first-rate education that provides a foundation for successful lives and careers, whatever path they might choose.
 Brown University President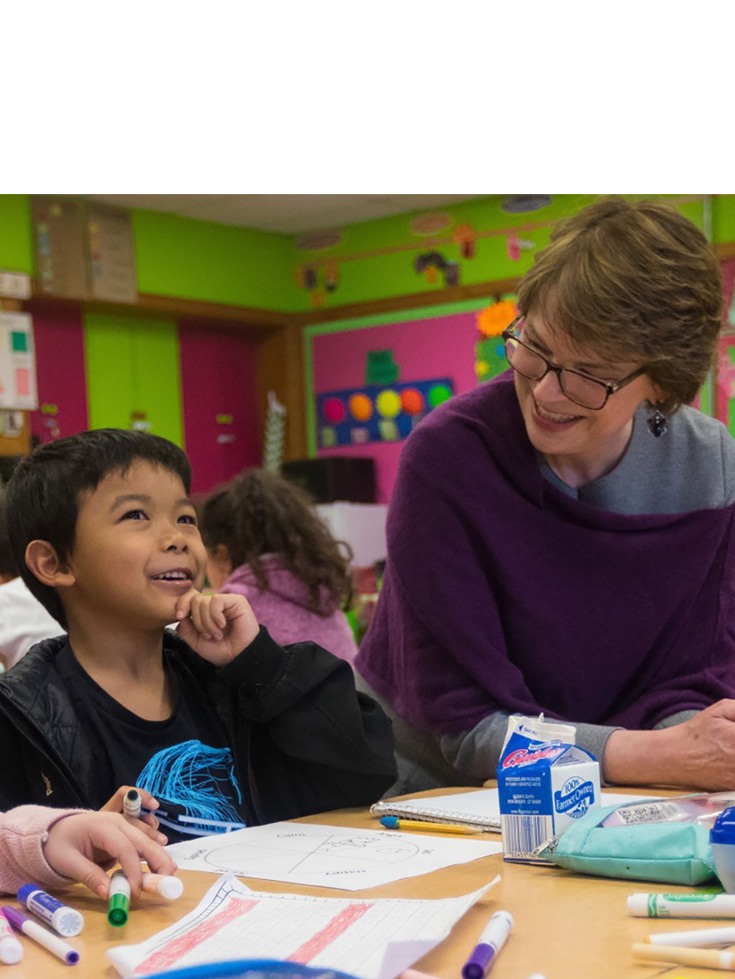 A decade of support for public schools
The Fund for the Education of the Children of Providence was established in 2007 as one outcome of a report issued by Brown's Steering Committee on Slavery and Justice, which investigated the University's historical relationship to the trans-Atlantic slave trade. The report recommended that the University increase resources devoted to promoting high-quality education for local students. This was work well underway across many departments, programs and student groups at the time, the committee recognized, but it could benefit from more targeted efforts.
In 2009, Brown began awarding grants from the Fund, ranging from $1,000 to $118,000 and supporting initiatives including library acquisitions, music instruction, reading interventions and the creation of a violence prevention curriculum.
Four years later, the University and local education leaders shifted the Fund's focus, providing 20 scholarships of $2,500 each to graduating high school seniors in Providence annually. Awards were based on academic achievement and financial need, with a preference for students who would be the first in their families to attend college. Since 2013, the Fund provided $300,000 in scholarships to 120 college-bound students.
In addition, Brown devoted University resources — beyond the proceeds of the Fund — to provide high-impact experiences for Providence youth, support initiatives to improve educational outcomes and enhance students' access to Brown summer programs. Faculty, staff and students also annually contributed thousands of volunteer hours to support Providence students.
In the wake of last year's Johns Hopkins report on PPSD schools, Brown began discussions with city and state leaders on a refreshed strategy for supporting efforts to improve Pre-K-12 education. One point of discussion was how best to refocus the Fund in ways that could be more impactful for students and more closely aligned with the priorities of the district and its schools.
"Our engagement efforts with Providence schools have been numerous, but they have also been diffuse and decentralized, often lacking strategic alignment with the schools' priorities and overall accountability," Paxson said. "I am delighted that Brown will be able to do more than it has before — not only because the Fund is now fully funded, but also because we are committed to understanding the priorities of Providence's public schools and addressing the greatest needs of the district's students."
Aligning support through committee oversight
Paxson said a newly formed Public Education Committee will provide oversight for Brown's relationship with PPSD, determining how payouts from the Fund should be allocated and guiding the direction of Pre-K-12 education initiatives at Brown. These currently are managed by a variety of departments and centers, from the Annenberg Institute for School Reform to the Swearer Center to the Center for the Study of Slavery and Justice.
Committee members will include Paxson; leaders in education, community engagement and diversity and inclusion on campus, including faculty, staff, students and alumni; local community members; and Brown Corporation members. Elorza and Peters will serve as non-voting committee members in their role as mayor and PPSD superintendent, respectively.
Though the committee may choose to allocate the Fund's payouts differently each year, Paxson said, its goal will remain the same: to support PPSD students in the most impactful way possible.
"The COVID-19 pandemic has made abundantly clear that needs and priorities in education can shift rapidly," Paxson said. "By meeting regularly with a diverse group of stakeholders invested in student success, we can stay nimble, support emergent priorities and confront pressing problems facing local educators and schoolchildren."
Brown made one such donation from the Fund in April 2020, in the early stage of the pandemic, providing $100,000 to deliver internet access to 900 student households for a full year — a need expressed directly by PPSD as its learners transitioned to remote instruction in the wake of COVID-19's arrival in Rhode Island.
Similarly, the project to transform Hope High School's library and media center is based on discussions with the commissioner and superintendent, and informed by conversations with students and administrators at the school. In the coming months, following an inclusive design process that will involve Hope High School educators and students as well as staff from the Brown Library, approximately $150,000 from the Fund will support significant improvements to the space. Students can expect to see an expanded selection of books and periodicals, new computers and new furniture in their communal study spaces.
"The New Library/Multi-Media Center will greatly enhance our students' 21st century skills and provide them an opportunity to have access to new and innovative texts while working in an open area that allows individual, small-group or large-group presentations," said Hope High School Principal Matthew J. Buchanan.
To create greater alignment and coordination across Brown's many Pre-K-12 education activities, Brown created the position of education coordinator, located in the Annenberg Institute, earlier this year. The education coordinator has the responsibility of coordinating all of Brown's community engagement activities in public education and serving as the primary point of connection between Brown and local school districts.
Many of those connections are organized through the Swearer Center. For two decades, nearly 100 Brown students have participated each week of the school year in Brown After School Mentoring, providing after-school enrichment at William D'Abate Elementary School. Separately, the Bonner Community Fellows program enables students to combine community engagement with academic goals, and many of these fellows embark on partnerships with local public schools.
Those initiatives are frequently integrated with Brown's research and teaching on important issues in education, much of which happens in collaboration with local educators. In recent years, for example, faculty in Brown's Department of Education worked with local education leaders to redesign the University's master of arts in teaching program to equip future teachers with the tools they'll need to fulfill the needs of urban secondary schools in the state. Separately, scholars at the Annenberg Institute are developing research-based solutions designed to improve education opportunity and outcomes, including in Providence.
Beginning on Aug. 3 with 25 students from Hope High School, the Annenberg Institute, Swearer Center and Tutor Matching Service will launch a pilot program in which Brown students will provide free online tutoring to local high school students. The goal is to advance educational outcomes for PPSD students, with the COVID-19 pandemic having shifted much instruction online. The partners hope to expand the program in the fall.
All of these community initiatives and academic programs, Paxson said, inspire new ways of thinking on everything from research efforts to career preparation at Brown, supporting the University's education and research mission, even as they benefit schools.
"Brown's longstanding partnership with PPSD is just that — a partnership," Paxson said. "While we continue to bring Brown's people, tools and resources to the table to support education in Providence, Providence's educators and children bring the best of themselves. The Fund for the Education of the Children of Providence is just one piece of a much larger community effort."