CMU Expands Asymptomatic COVID-19 Testing with High-Volume, On-Campus Lab
After months of planning, Carnegie Mellon University is unveiling a new testing strategy, including the opening of its own on-campus laboratory, that enhances the way CMU detects and prevents the spread of COVID-19 within its community. The Tartan COVID-19 Asymptomatic Testing Program, or Tartan Testing for short, will allow all asymptomatic Carnegie Mellon students, faculty and staff in the Pittsburgh area — as well as on-campus dining and custodial affiliates — to be tested once a week throughout the spring semester.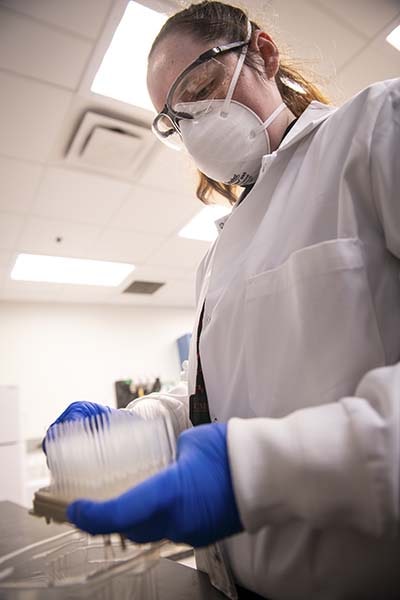 Tartan Testing includes a new facility in the Pittsburgh Technology Center (PTC), where trained and certified CMU lab personnel will quickly process and analyze thousands of tests per week with assistance from complex robotic systems. The high-volume lab will provide results within approximately 2-3 business days.
"Carnegie Mellon is one of the few universities in the nation without a medical school that has created its own lab to test its community for COVID-19 — a feat made possible by experts from across campus and from a variety of disciplines," said Carnegie Mellon President Farnam Jahanian. "Their tireless efforts and determination have provided yet another example of what CMU can achieve when we face and answer tough challenges together. I'm incredibly grateful and proud of these collective efforts to protect the health and well-being of our students, faculty and staff."