Education expert joins $2 million grant project to transform high school civics
Thanks to a $2 million federal grant, a Brown University researcher will spend the next four years bringing civics alive in high school classrooms across the United States.
Jonathan Collins, an assistant professor of education and international and public affairs at Brown, will work alongside seven scholars at the University of California-Riverside and Ohio State University to develop and test a social studies curriculum that lets students discuss pressing social issues with sitting members of Congress.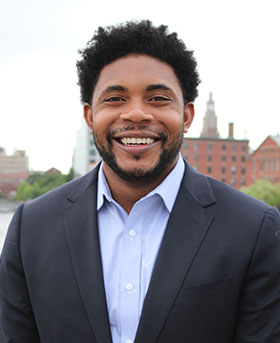 The project, titled "Connecting Classrooms to Congress: Fostering Informed Civic Engagement Via Online Deliberative Town Halls," is funded by a grant from the Institute of Education Sciences, part of the U.S. Department of Education. Leading the project is Joseph Kahne, a professor of policy and politics at UC Riverside.
"This project is about innovating the way we teach kids civics," Collins said. "For too long, Congress has felt like a distant myth for kids, and particularly kids who don't come from privileged backgrounds. We want to reverse this by not only connecting kids to sitting members of Congress but also giving them the opportunity to have real-time dialogues about pressing policy issues."
Collins said the research team will create a web-based curriculum that develops students' civics knowledge, skills and community engagement while also strengthening crucial skills such as persuasive writing and critical analysis. But beyond improving students' grasp on civics, the researchers' academic module will also strive to apply social studies lessons to current events. Students will spend three weeks researching all sides of a policy issue, such as climate change or health care, and learning how to evaluate the credibility of information they find. Then, they'll engage in "deliberative town halls" on the issue alongside one of their own Congressional representatives. Finally, they'll have the chance to speak, and compare notes, with students from other U.S. communities who have researched and debated the same issue.
After developing the curriculum, Collins said the research team will conduct pilot tests in a diverse set of high schools in California, Illinois and Florida, with the ultimate goal of ensuring American students become informed, engaged voters and citizens.
The grant award comes on the heels of Collins' most recent research project, which showed that providing opportunities for deliberation at public meetings can empower marginalized citizens to advocate for themselves, potentially leading officials to make decisions and craft policies that are more inclusive and universally beneficial. Similarly, Collins said, giving all students the opportunity to converse with their representatives could prove empowering for them and informative for federal leaders.
"Ultimately," Collins said, "we want students to understand the complexities of federal policies, and we want them to feel comfortable having civil, substantive dialogues with everyone from peers to politicians."