Hisao & Hiroko Taki Plaza ― The new landmark on Ookayama Campus
The construction of Hisao & Hiroko Taki Plaza
 (Taki Plaza), a 4,900-square-meter student exchange hub in the heart of Ookayama Campus, has finished approximately four years after the concept was born. The completion of the building, made possible thanks to a donation by Tokyo Tech alumnus Hisao Taki (Class of 1962, Mechanical Engineering), was celebrated with an opening ceremony and a preview of the building on December 12.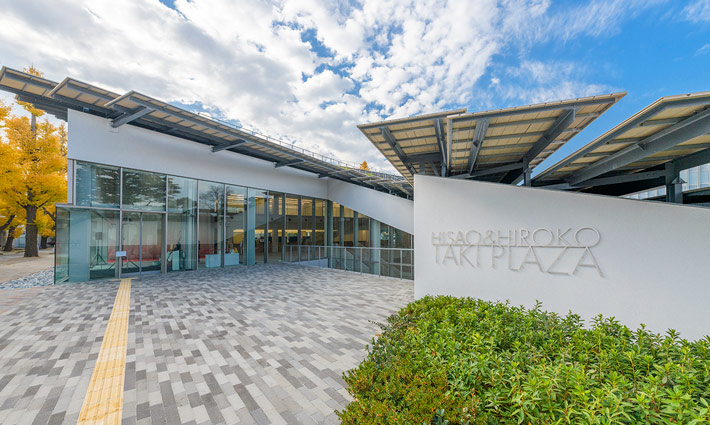 The striking new facility welcomes campusgoers just inside the main gate of the campus. According to chief architect Kengo Kuma, the building's exterior is intended to resemble a hill, the topographical feature for which Ookayama Campus and the surroundings areas are known. The hill also represents a new platform for students. Final touches are being made to the interior, meaning students still have a short wait before the grand opening in April 2021.
After this, the participants unveiled the much-anticipated ELEMENTS OF FUTURE, a large ceramic wall mural on the first floor of Taki Plaza. Designed by world-famous manga artist and film director Katsuhiro Otomo, the mural was inspired by exhibits from the Tokyo Tech Museum and consists of six Tokyo Tech-focused components — fire, water, minerals and metals, machinery, cities and architecture, and people. The center of the piece comes together in a hill, a symbol of Tokyo Tech's ability to rise above the chaos of the world and make progress in harmony with the concept of the entire building.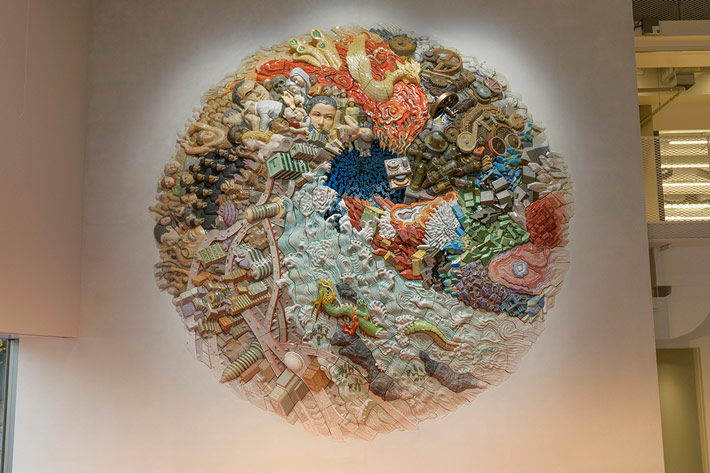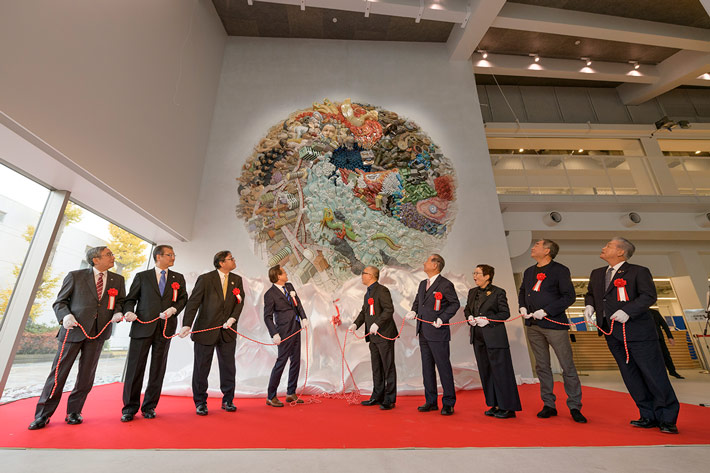 Participants unveil ELEMENTS OF FUTURE, Taki Plaza's artistic centerpiece created by Katsuhiro Otomo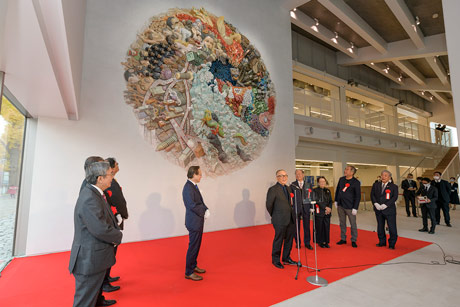 Artist Otomo (center) calling on staff of CREARE Atami-Yugawara Studio, the team who supported the creation of the piece, to come and view it in its new location