Marsden grants fund research at University of Auckland
Deputy Vice-Chancellor, Research, Professor Jim Metson noted that nearly 30 percent of the 134 Marsden grants awarded went to the University of Auckland – a 14 percent increase from last year.
"Alongside the research, a huge amount of work goes into applying for research funding and it is very pleasing that close to 50 percent of Auckland's final-round applications were accepted," he said.
"The Marsden Grants, along with other funding provided by the Government and from private sources, support us to continue with outstanding research that contributes to the advancement of Aotearoa New Zealand and the world."
Individual grants of more than $950,000 were awarded to six projects, including Associate Professor Christopher Hall, Faculty of Medical and Health Sciences for "Fighting infections around the clock: understanding how neutrophils use an endogenous molecular timer to anticipate and fight bacterial infections" and Dr Lora Strachan, Faculty of Science, "Does climate influence the frequency of volcanic activity and earthquakes?".
Dr Kelly Burrowes, from the Auckland Bioengineering Institute, "The vaping puzzle: In silico modelling to piece together the health effects of e-cigarettes" and Associate Professor Naresh Singhal, Faculty of Engineering, "Exploiting the ancient microbial response to reactive oxygen species to degrade persistent emerging contaminants? were among those awarded just under $900,000.
Distinguished Professor Dame Anne Salmond, Faculty of Arts, "Let the River Speak: Working across 'worlds' for socio-ecological transformation" and Dr Ryan Greenway-McGrevy, School of Business, "Will upzoning deliver housing affordability for everyone?" were in the group awarded more than $800,000.
Associate Professor Nancy November, Faculty of Creative Arts and Industries, "Cultivating Musical Arrangements in Early 19th-Century Vienna: Uncovering Women's Agency in the Domestic Sphere" and Professor Janet McLean, Faculty of Law, "Reconstitutionalising the Public Service in Westminster Systems" were both awarded over $600,000.
In total, 23 University of Auckland submissions were awarded Marsden Fund Standard grants. These are open to established researchers as well as emerging researchers. Funding is for three years and the amount of funding is flexible, depending on project needs.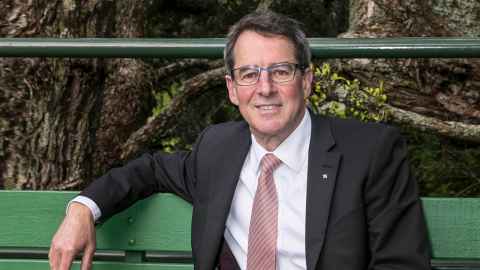 The other Marsden category is Fast Start and Professor Metson said he was delighted to see funding awarded to 16 projects in this category.
"These are aimed at emerging researchers and they can literally provide a kick-start for academics in the early stage of their careers," he said.
The Fast-Start grants come from a special pool of funds for emerging researchers and are set at $100,000 per year for three years. University of Auckland recipients included Dr William Schierding of the Liggins Insititute "3D genome dysregulation: Systematic interpretation of noncoding elements driving cancer", Dr Sam Manuela, Faculty of Science, "Psychology of Pacific Peoples or Pacific Psychologies? How Pacific psychologists are changing the discipline" and Dr Jessica Parr, Faculty of Arts, "Obesity in Aotearoa New Zealand: Unravelling the history of an epidemic".