Newcastle archaeologist helps families uncover lost history
Dr Chloe Duckworth is one of three archaeologist presenters joining host Hugh Dennis on the Great British Dig, which will be broadcast later this month on More 4.
Each episode of the four-part series looks at one street in a particular location and brings residents together with a team of professional archaeologists and volunteers to reveal the history under their feet.
The first episode focusses on a street in Benwell, Newcastle. During the programme, the team uncover historical evidence from a range of time periods – from remnants of a World War Two air raid shelter right through to artefacts connected to a settlement that lay just outside the nearby Condercum Roman fort, which is thought to have been built in the second century AD. The fort itself was one of 13 along the length of Hadrian's Wall.
"I'm always amazed at what you can find in such a small space," said Dr Duckworth. "The residents and volunteers we worked with were really excited to help us peel back the layers of history in their gardens.
"This is such a great way to bring neighbours together, and for us as archaeologists it's a unique opportunity to excavate in places we wouldn't normally have the chance to. 
"In the case of the first episode, it gave us a vital glimpse of how people were living close to Hadrian's Wall. The last time anyone was able to do that in this location was over 90 years ago, before these houses were built, so it has really helped to fill in some of the missing pieces of the jigsaw."
Other locations featured in the series, which was filmed in accordance will all the coronavirus restrictions in place at the time, include Trow Point in South Shields, where the team look for WW1 and WW2 training grounds, as well as Masham, North Yorkshire where they find signs of an early medieval cemetery in a local beer garden.  They also visit Nottingham, where they attempt to unearth the long-lost Lenton Priory.
Unearthing lost history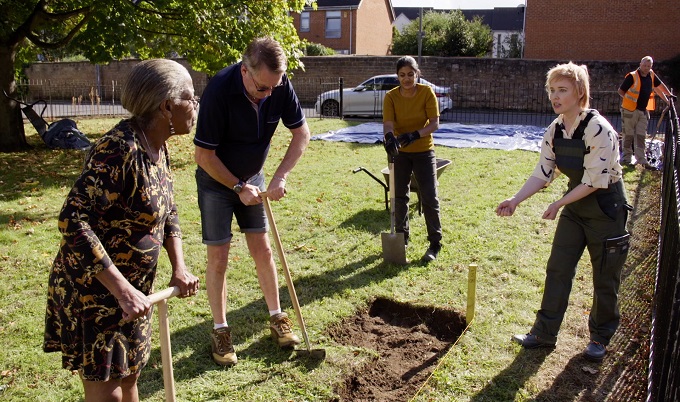 The other experts joining the team are archaeologist Richard Taylor and field archaeologist Natasha Billson.
The series follows a successful pilot broadcast last year, after the programme's producers saw Dr Duckworth's popular YouTube channel, ArchaeoDuck, and asked her to get involved. 
"This programme shows us that the history of an area is there under our feet," added Dr Duckworth. "Although archaeology is a skilled profession conducted by highly qualified individuals, there are plenty of ways that people can find out about the history all around them, whether that is through local archaeological societies or even by getting involved in a project such as our own Hadrian's Wall community archaeology project.  
"I really hope this programme inspires people to learn about safeguarding the cultural heritage that is all around us." 
'The Great British Dig: History in your back garden' will be shown at 9pm on Wednesday, 17 February on More 4.
All images and footage courtesy of Strawberry Blond/Channel Four.