Over-policing in Black communities to be explored in new University of Toronto public health course
A new course offered at the University of Toronto this spring will allow students to analyze the public health implications of race-based criminal justice data in real-time – just as Canadian governments are releasing the information.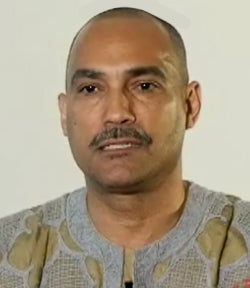 In Anti-Black Racism as a Policing and Public Health Crisis, Akwatu Khenti, an assistant professor at the Dalla Lana School of Public Health, will help students build the analytical skills needed to use publicly available data to answer critical public health questions, with the goal of understanding barriers to an equitable criminal justice system.
The course explores the ways in which Canada's criminal justice system intersects with race, poverty, gender and mental health to create compounded intersectional risks for Black Canadians – and considers how racism and over-policing have undermined Black trust and confidence in the Canadian justice system. It also applies an anti-racist lens to public health approaches to Black gun violence and homicide victimization in Toronto by querying whether public health has effectively dealt with a long-standing racialized epidemic of homicide mortality in Toronto. Students will have the chance to hear directly from guest speakers who have been involved with the system and/or are advocating for changes to eliminate anti-Black racism in criminal justice.
"The framing that the course brings to the issues is distinct," says Khenti, a mental health researcher at the Centre for Addiction and Mental Health (CAMH) and former assistant deputy minister at the Ontario Anti-Racism Directorate.
"We will examine the issues through the Black community's crisis of trust in policing, which is at its lowest ebb in Ontario right now, the crisis in police credibility due to the persistence of racial profiling, and the public health crisis resulting from police violence that manifests – not just in gun deaths, but in mental health consequences."
In 2020, the Ontario government mandated the collection of race-based data across the criminal justice system, from police and prosecutors to jails and courts. For the first time, the public has the opportunity to learn, for example, whether Black and Indigenous people are being granted bail at the same rate as those of other races, or whether racialized people are being arrested with higher rates of use of force than whites for similar offences.
For Khenti, the mental health impact of over-policing is key, but traditionally very difficult to measure. He points to the now-defunct Toronto Anti-Violence Intervention Strategy (TAVIS) as an example of the problem. For a decade, he says, many of these TAVIS officers, deployed to high-crime areas, created fear in Black communities.
But drawing a direct correlation between TAVIS and mental health changes is difficult. Khenti hopes the collection of race-based criminal justice data will increase understanding in this area by showing the huge health costs of over-policing on Black communities.
"Over-policing is a public health issue because it alters people's wellbeing and their participation in society," he says. "Those costs have not been calculated but I always believed they are very high – especially around the TAVIS units. If we could calculate the anxiety and depression in the areas where they worked, I believe they would be exorbitant."
Khenti says the data offer exciting possibilities to help police forces deal more helpfully with the large percentage of mental health calls they receive.
"It's not a question of defunding the police. It's about creating a different model of policing," he says. "We have to move from a militarized and enforcement model to a public service model. Police budgets are growing. But they're not growing their training practices and/or mental health units, for instance, by expanding training of all dispatchers to equip them for mental health calls. I think there's a lot of opportunities to work with the police."
The course (CHL 7001H S5) is open to all Dalla Lana School of Public Health graduate students and should be of interest to those planning a career in government or academia, Khenti says.
"We'll be creating a group of graduates that should be comfortable with the issues and able to add value to the data," he says, pointing to a growing need for analysis of race-based data within government now that use-of-force information is being collected.