Poetry, Prose and Passion: Cornerstones of the new Linda Munk Graduate Futures Scholarship
Professor Emeritus Linda Munk, whose original thinking, fierce individuality and demand for commitment inspired a love for writing and poetry in thousands of students, will once again support the next generation of literary scholars.
Her children, Anthony Munk, Nina Munk, and Marc-David Munk, have generously established the Professor Linda Munk Graduate Futures Scholarship in the department of English in the University of Toronto's Faculty of Arts & Science to honour their mother, who died from melanoma in 2013 at age 75.
"U of T's department of English is the perfect place to recognize our mother," says Marc-David. "If you think about the number of years she spent in the department, either as a student or a teacher, it was really a second home to her."
With the first recipient expected to be named in the spring of 2021, the scholarship will be awarded to a full-time graduate student, addressing "the department's need to remain competitive in recruiting students into the MA and PhD Programs," says Professor Paul Stevens, chair of the department of English.
Through generous donations from all three children, as well as contributions from the Faculty of Arts & Science and the department of English, a $500,000 endowment has been created. The resulting $20,000 annual scholarship will be one of the largest in Canada for English master of arts students.
"All too often, highly qualified prospective students are lured away by superior offers of financial support from other institutions," says Stevens. "Now, our drive for master of arts scholarships has been strengthened with this magnificent gift from the children of Professor Munk who will make a real difference in the lives of a new wave of literary students."
Born in 1937, Linda Munk (née Gutterson) began her undergraduate studies at U of T's University College in the fall of 1956, newly married to Peter Munk. He would go on to become a businessman, philanthropist and longtime U of T supporter, who, with his second wife, Melanie, would underwrite the Munk School of Global Affairs & Public Policy. For her part, Munk turned her back on her prescribed life; divorced after 14 years of marriage, she set out on a new path.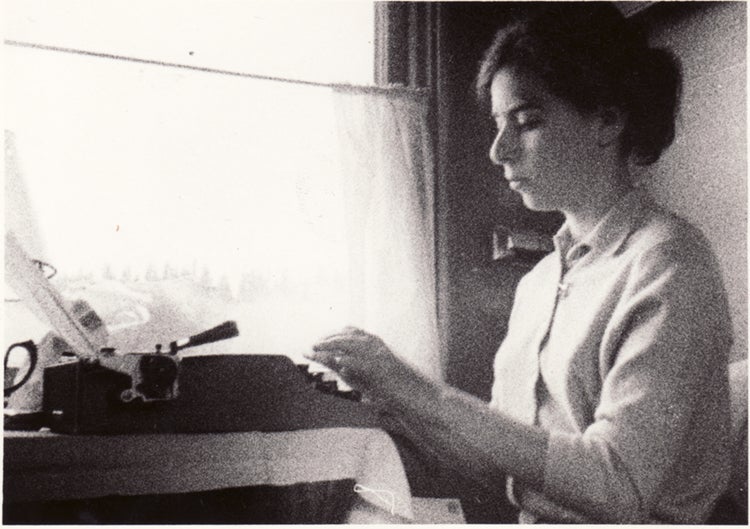 Linda Munk with her portable Olivetti on a train from Moscow to Helsinki in 1958, when, as a U of T undergraduate, she participated in a cultural exchange program in the former Soviet Union and reported on life behind the Iron Curtain for the Toronto Daily Star (photo courtesy of the Munk family)
While a love of writing fuelled an early stint as a journalist, Munk initially struggled to find purpose. She sought the company of other intellectuals, often in Yorkville's Pilot Tavern, conversing with the city's top scholars, writers, poets and artists. In the late 1960s, wanderlust led her to establish residence with her children in Europe.
Munk was 42 years old and a single mother of three when she returned to Canada to begin her master's degree in English at U of T. Her children vividly remember their mother as a student and the transformation of the family home in Toronto's Cabbagetown.
"She converted our dining room into an academic's office," says Marc-David. "All around her were stacks of books and scholarly journals. There was no disturbing her. It was head down all morning, then she would stop for a bite of lunch and work clear through the evening." Many a weekend, she piled everyone in the car for a trip to Robarts Library to return books.
As soon as she finished her degree in 1981, Munk wasted no time completing her PhD, tearing through her course work and thesis. Though not confirmed, it's rumoured she completed her PhD faster than anyone in the department's history.
After defending her thesis on her favourite poet, Emily Dickinson, Munk was hired in 1985 as a lecturer at U of T Mississauga, then Erindale College. She later taught at the St. George campus in the mid-1990s until she retired in 2003 with a career that included two books, multiple research awards, and visiting scholar and fellow honours in the U.S. and the U.K.
Initially, many of the courses she taught were introductory. Many of her students were first-generation university students, and often first-generation Canadians for whom English was a second language.
"For some professors, teaching introductory English might have felt like a hardship," says Marc-David. "But not for Linda. She truly appreciated the importance of what she was teaching her students and was uplifted by the effect she had."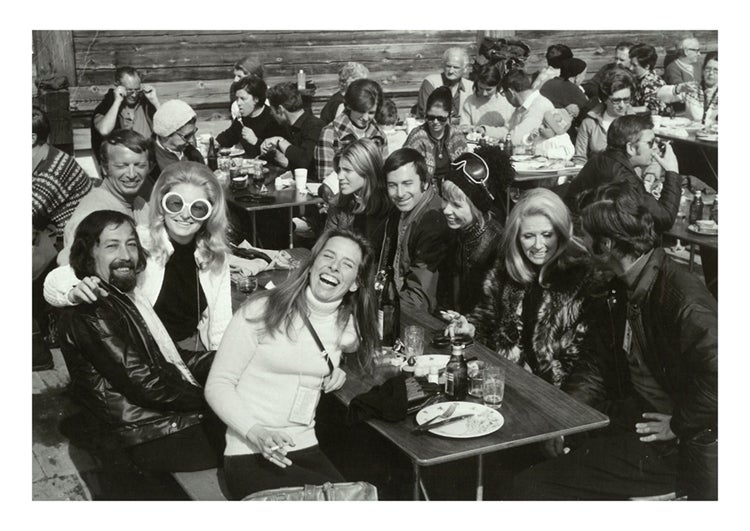 Before returning to Canada to pursue her studies, Linda Munk, laughing here with friends in Switzerland in 1970, spent more than a decade in Europe (photo courtesy of the Munk family)
Fellow Professor Emeritus Brian Corman, and former chair of the English Department, quickly noticed Professor Munk's efforts to become the best lecturer possible.
"She paid attention to how students responded to her when she started teaching," says Corman. "She was willing to make adjustments based on their feedback. It's not something she talked about; this was all done very quietly. So much of what she did was. But it was very deliberate, and she developed techniques that led to her being one of our most highly-rated faculty members."
But it wasn't without effort.
"Teaching took a lot out of her," says Marc-David. "I don't think she was naturally an extrovert. She would come home exhausted, but she found it incredibly rewarding."
And she was no easy grade. Munk believed that, with proper discipline and focus, anyone could become a strong writer and broad thinker. And extensions on papers? Forget it. For much of her teaching career she had a "zero-late" policy. Hand in your paper on time or receive a failing mark. Period.
Margaret Procter, a retired colleague and friend, remembers Munk's passion and novel approaches to teaching, including having students write about poems in class rather than labouring over essays at home.
"The attempt to interpret took place in real time – scary but energizing," says Procter.
Munk was also adamant that her students memorize and recite poems."Students who at first resented this requirement soon realized how much that simple exercise made them feel and see," says Procter.
"She would say to her classes, 'All you need is a good dictionary and a commitment to learn poems by heart.'"
Of all the dictionaries at U of T, Munk's favourite was the Dictionary of Old English (DOE) – her affection was so strong, she requested donations be made in her name to the DOE in lieu of flowers after she passed.
Antonette diPaolo Healey, the former DOE editor and the Angus Cameron Professor Emerita of Old English Studies, remembers her colleague as bracingly original.
"I immediately took to Linda for her dry wit, her directness and her irreverence in speaking about the customs and habits of academic life," says Healey. "This may have come to her because she had experienced another life entirely before becoming an academic.
"Linda liked the DOE because she loved language and working with words, as her love of Emily Dickinson's poetry attests," continues Healey. "She saw a dictionary as a basic research tool that represented solid scholarship.
"But what I admired most was her frankness. If she was going to reveal something about herself, you got the unvarnished truth. She was a very complex person, but, oh, how she made me laugh. I still miss her."
So, too, does Corman. "She was quite an individualist; she very much knew her mind," he says. "She was determined to follow through with what she thought was important, and she did it her way. It was in her nature to be fearless. I haven't known anyone quite like her."
That sentiment was echoed by dozens of students upon learning of their former teacher's passing. "The letters of condolence were extraordinary," says Marc-David. "We heard from so many students who said she had changed their lives."
"It's entirely appropriate that Linda's children want to create a scholarship for graduate students in English," says Procter. "Linda's choice to do graduate studies was a transformative experience for her personally, and I know she would be delighted to see her family resources used to open that opportunity for others."