Pre-college programs at Brown offer high school students the chance to learn on campus or online
The first in-person Summer@Brown sessions since COVID-19's arrival are welcoming nearly 800 high school students to campus this summer, while many others participate virtually from across the globe.
Brown University] — More fully populated common spaces. Small groups of students eating lunch together before rushing to class. Friends chatting while they carry books across the College Green. After a de-densified year on campus during the COVID-19 pandemic, those have been welcome sights in recent weeks.
And in addition to Brown students completing the summer term, the recent arrival of high school students on campus for summer pre-college programs is yet another sign of a return to more traditional operations.
In the years preceding the pandemic, up to 6,000 high school students typically spent the summer participating in pre-college classes, workshops and institutes at Brown over seven weeks of overlapping sessions. This year, given health and safety guidelines that remain in place, that number is smaller; two cohorts of roughly 400 students each are taking up residence on College Hill for Summer@Brown with a week-long break between sessions to allow for deep cleaning of the facilities.
Hailing from 38 states and territories and 28 countries, those students will live and learn on Brown's campus, choosing from 243 classes that represent the range of Brown's Open Curriculum. Courses span the academic disciplines — from "Combating Disease in the Modern Age: Virus Evolution" to "Free Will and the Brain: Neuroeconomics and the Science of Decision-Making" — and are taught by faculty, graduate students and instructors affiliated with the University.
Outside of class, students experience the independence of college life and get a taste for what their first year as an undergraduate might look like, snoozed alarms and all. But in Brown's pre-college programs, there is an extensive safety net for students, which makes the transition a bit smoother, said Adrienne Marcus, dean of pre-college and summer undergraduate programs.
"We expect students to fail, to trip up, to make mistakes — we all do," she said. "But we want to be there to prop them back up and help them see it as a learning experience."
In planning for a summer on campus, safety was the top priority. Due to age restrictions on the COVID-19 vaccine eligibility, the Division of Pre-College and Summer Undergraduate Programs operated on the assumption that the incoming students wouldn't be vaccinated; but Marcus said that nearly all of the program staff were fully vaccinated, and more than 70% of the students in the first session voluntarily shared their fully vaccinated status as well.
Still, precautions were implemented to protect against potential virus spread, including designated dining, academic and residential buildings used solely for the pre-college population, additional staff presence helping to ensure students observe mask-wearing and social-distancing mandates, and routine COVID-19 testing twice-weekly for all students and staff associated with the program.
In addition to being able to attend in-person classes, those precautions made it possible to provide safe and memorable events for the students.
An off-campus boating trip drew more than 200 participants who hopped on buses to Hopkinton State Park in Massachusetts, about an hour away from campus. The program reserved kayaks, canoes, paddle boards and pedal boats, and students spent the morning floating with friends, walking the nature trails and enjoying time on the beach.
Students also met up for movie nights, held on Ruth Simmons Quad under the stars, where films were projected on two screens to assist with social distancing. While other events have strict capacity limits, movie nights are open to all students in the program, offering a chance to gather as a campus community.
Even as the pre-college programs remain adjusted for the pandemic, Marcus says that one thing remains steadfast: the quality and long-term impact of the experience.
"Every year, thousands of young people learn about and experience the excellence of a Brown education, then return to their homes and go out into the world and share what is often a really impactful experience for them," Marcus said. "Teenage years are a pivotal moment for many people, and these kinds of experiences stay with pre-college alumni for decades. People who are now middle-aged, who went to Brown pre-college programs in the 1980s — they remember, they come back, and they're still in touch with the people they met at Brown all those years ago."
Pre-college Programs 2021
800
SUMMER@BROWN STUDENTS ON CAMPUS THIS SUMMER
243
PRE-COLLEGE COURSES OFFERED
4,000
PRE-COLLEGE STUDENTS ENROLLED IN ONLINE COURSES
66
STATES AND COUNTRIES REPRESENTED ON CAMPUS
Learning on-campus or learning online
This year, students could choose between attending pre-college programs in person, where they would live, study and meet fellow participants on campus, or online, where they could access courses on a more flexible schedule. All virtual courses are asynchronous — rather than having students attend Zoom sessions at set times, instructors worked with Brown's Digital Learning and Design team to transform courses into a flexible format that students can access at any time, from anywhere in the world.
In "Explaining the Mysteries of Common Events: Acid/Base Chemistry," for example, chemistry graduate student and instructor Leonard Sprague recorded a series of lectures that students can access throughout the course. The lectures are paired alongside "mini experiments" — some of which include do-it-yourself projects that can be done with common housewares or given supplies to achieve a greater understanding of acids and bases. Students gain a virtual introduction to manual and automatic pH equipment, UV-vis spectroscopy (for color change verifications), laboratory glassware and safety practices, all without having to step foot into a lab.
Other courses, like "Habitable Worlds: Possible Places for Life in the Solar System and Beyond," long a popular choice with pre-college students on campus, found ways to build community virtually through its new format. The instructional team offered synchronous office hours and added daily "special sessions," in which students could participate in activities like space-themed trivia and art hours, as well as discussions that cover representation of science in movies, the politics of space, potential career paths and more.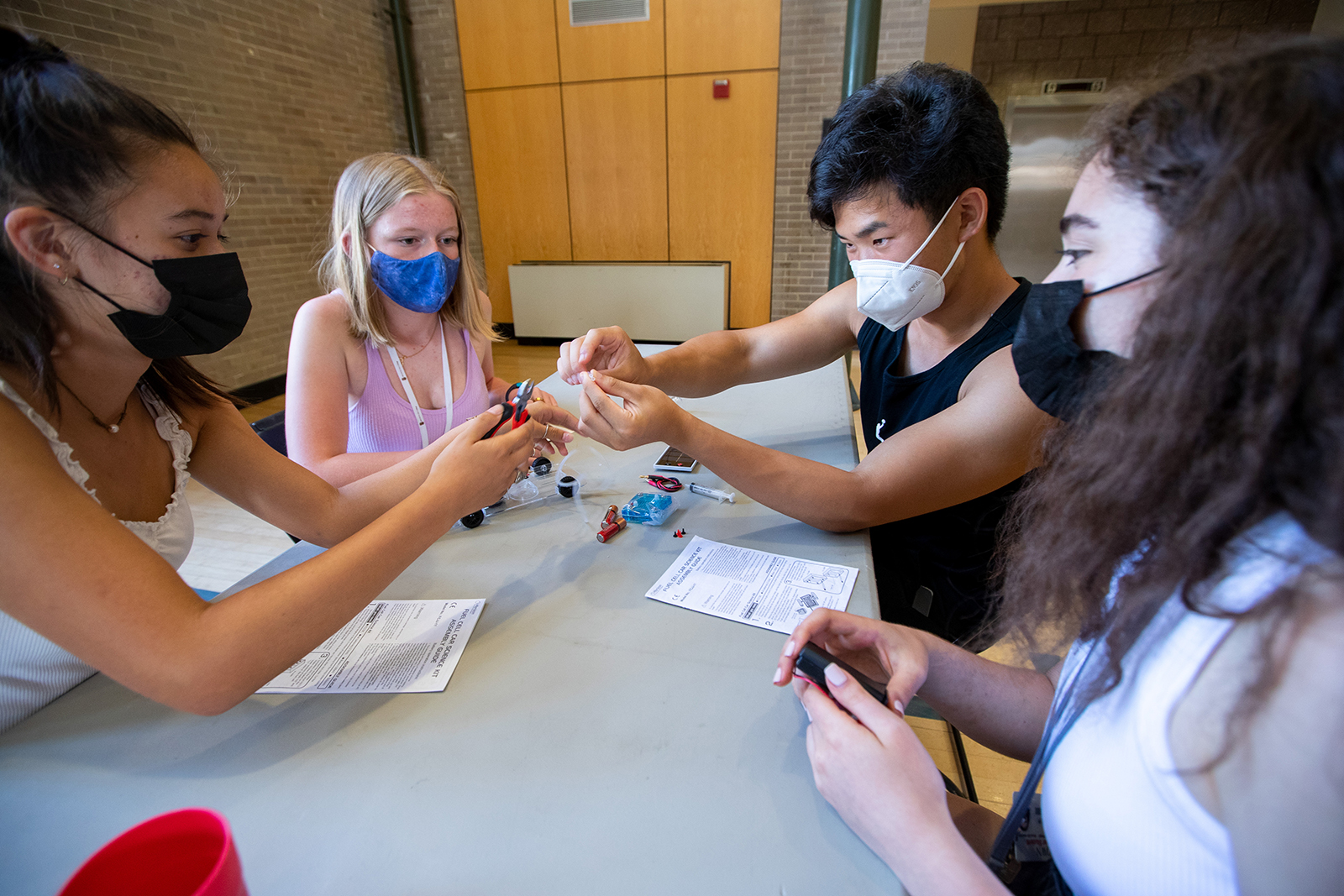 "When we talk to high school students, they are assuming a synchronous experience where they're just sitting at their computer with their classmates for an extended period of time," Marcus said. "That's not what we do, and what they get out of it is pretty exceptional."
Those courses are supported by a robust online social and educational calendar offered to students who are studying on campus and online. Offerings include everything from workshops on identity development to presentations about preparing for college and navigating campus.
A virtual, hour-long workshop is held nightly, allowing both online and on-campus students to take part in the same activity together. Twice a week, undergraduates lead Student Life Mentor Groups, where pre-college students can gather virtually to develop relationships with their peers and discuss strategies for adjusting to and thriving in college. Panel discussions give the high schoolers an opportunity to attend live Q&A sessions with current undergraduates representing various backgrounds and experiences. There are also more relaxed social events, resources and virtual academic support, interactive webinars and more.
For the first time ever, high school students can participate virtually in the Brown Leadership Institute. The four-week-long program combines the development of socially responsible leadership with focused academic study. Students integrate their learning through course workshops on leadership styles, public speaking and active listening as well as the development of an action plan project related to their school or home community.
Feedback and enrollment indicate that students continue to value the Summer@Brown experience, including in virtual format. Last year, nearly 3,200 students took virtual pre-college classes. Thinking that high schoolers would be weary of virtual instruction, program leaders predicted that roughly 2,000 students would enroll online this year; the actual number was more than double that. And the students liked the new setup so much that the University plans on making it a permanent feature.
"We've transitioned so many great courses to this asynchronous format it would be a pity to not allow students to have that opportunity in the future," Marcus said.