ROYAL SOCIETY RESEARCH PROFESSORSHIP FOR LEADING UofG PHYSICIST
A University of Glasgow academic has been announced as the recipient of one of the Royal Society's premier research awards.
Professor Miles Padgett, of the School of Physics and Astronomy, has been made a Royal Society Research Professor.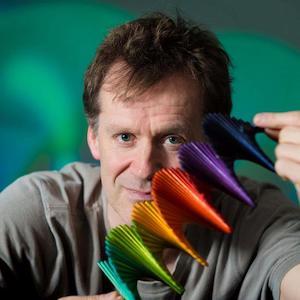 Royal Society Professorships provide up to 10 years of support for internationally recognised scientists from biochemistry, genetics, mathematics, chemistry, developmental biology and physics. The award supports leading academics to focus on their research. A total of seven Research Professorships have been announced today (Friday 15 January 2021).
The award will enable Professor Padgett to advance research in quantum science and optical imaging.
An example of one of these new imaging systems is an ultrathin endoscope which is the width of a single strand of human hair. Professor Padgett's team aspires to create a new generation of endoscopes that can produce 3D images. The application of this technological development in, for example, medical imaging would be transformational.
Professor Padgett said "I am delighted to have the opportunity to dedicate myself not only to the research we do but also importantly the way we do it. I recognise the vote of confidence that this award signals both to the talents in my group and my colleagues in the University more generally. I look forward to continuing my work both in this research and our University's strive to update our research culture".
Linda Partridge, Biological Secretary of the Royal Society, said: "We are delighted to have appointed seven Royal Society Research Professorships this year. It is becoming more important to enable world-leading talent such as these exceptional scientists. By offering long term support to carry out exciting and visionary research, these scientists will contribute to and strengthen the continued success of UK science."