Stanford in New York students are welcomed in a creative way
Located on the 18th floor in the Flatiron District, with wraparound windows providing spectacular views of the city, the Stanford in New York Center still needed something to kick off the fall quarter.
"The center's walls were crying out for artwork," said Rosina S. Miller, founding director of Stanford in New York.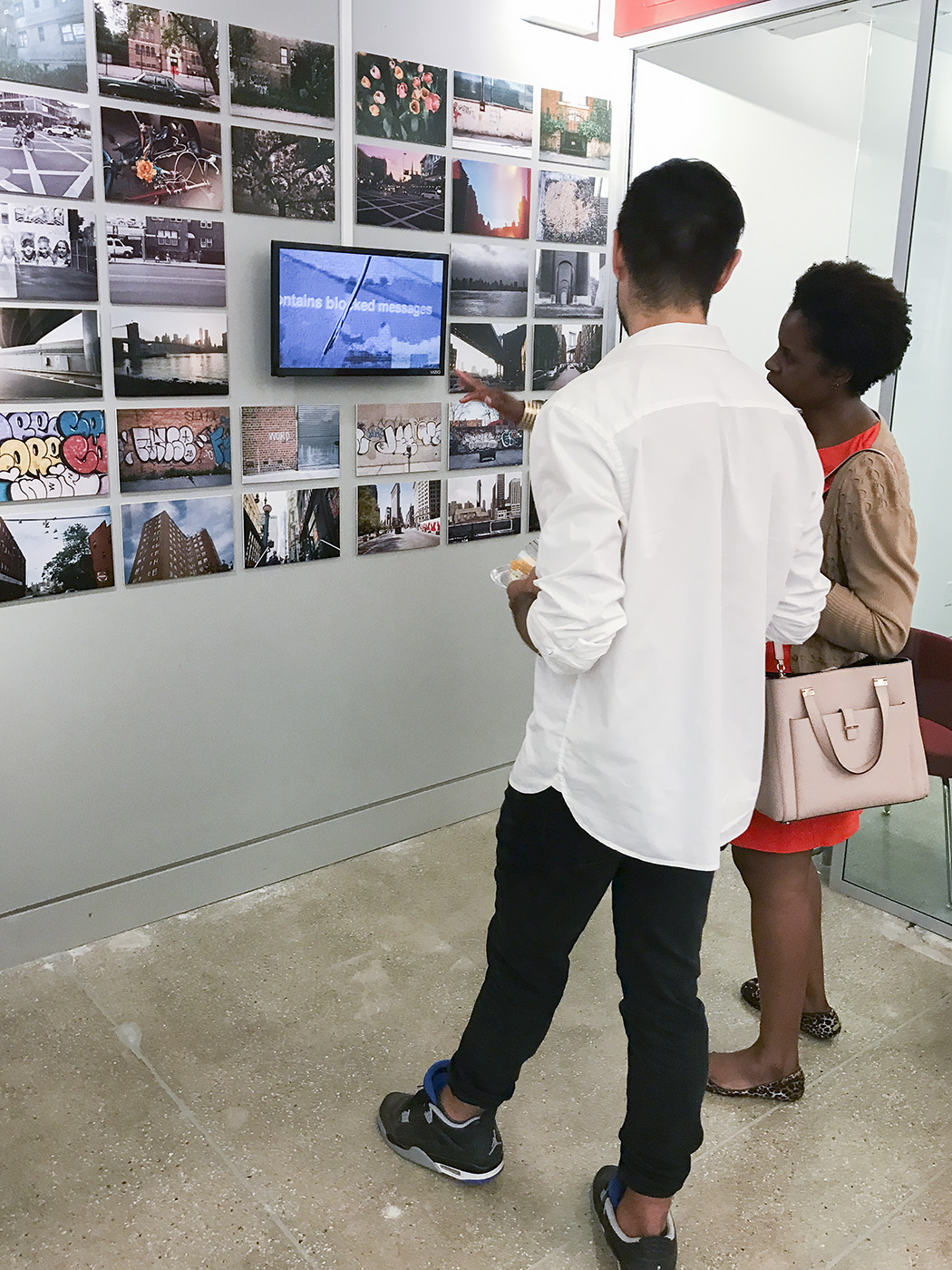 So, new students entering the center this week were greeted by an exhibition of artwork created by four Stanford alumni. It is a fitting welcome given that the focus of the fall quarter is the arts, architecture, design and urban studies.
"The idea for this exhibit grew out of our program's desire to engage alumni in the city, tie into the quarter's focus and hopefully inspire our current students with the vibrancy of alumni arts in New York City," Miller said.
The exhibition, Stop. Motion. Stanford Artists Around New York,was curated by two New York-based alums, Atheel Elmalik, '15, and Alex Fialho, '11, and is on view through June 15, 2018. Rather than establishing an exhibition theme and finding artwork to support it, Elmalik and Fialho went the unconventional route. They visited art studios around New York City, viewed a range of subject matter and mediums, and allowed the framework for the exhibition to emerge out of the art.
The opening on Monday demonstrated how much young alumni artists, in particular, are seeking interaction with the Stanford community. "We had a great turnout of alumni and are thrilled to be a catalyst for deepening alumni engagement with the university in New York. The current students were able to meet alumni in different fields related to their interests," said Miller.
This quarter, Stanford in New York students are interning at the Museum of Modern Art (MoMA), the New York Philharmonic, an independent record label, multiple theaters, architecture and urban planning organizations, WNYC radio, material and digital design studios, and in education and law.
Miller praised the curators for their work on the exhibition. "Alex has deep ties to Stanford arts, through his service on the Stanford Arts Advisory Council, and I knew of his curating of the well-received Michael Richards exhibition on Governors Island in New York City last year, a show that will travel to the Stanford Art Gallery in 2019.
"He introduced me to Atheel, whose curatorial experiences at MoMA and the Studio Museum in Harlem, for example, brought a complementary level of professionalism and expertise. The two of them collaborated beautifully to put this together, and it was delightful to see their vision for the show unfold."
Elmalik explains her approach to the curatorial process: "While some of the alumni artwork loosely reflects the framing themes of the Stanford in New York program, we chose not to impose a narrative thread that claims to connect the work, as our conversations with the artists communicated varied motivations, intentions and sensibilities."
The alumni artists featured in the exhibition are Elliot Luscombe, '09, and his stop motion videos of New York City – his work inspired the title of the show; Mae Ryan, '09, and her aerial photographs of Los Angeles and Owens Lake in the Sierra Nevada; and painters Amy Fung-yi Lee, '06, and Emma Webster, '11.
"During our visits with Stanford alumni artists, we found ourselves sharing experiences from our college years – collective mural making at Terra and Chi Theta Chi co-ops, archival research at Special Collections and study abroad to Berlin, Cape Town and more," said Fialho. "This reminiscing dovetailed into contemporary conversations about community at an Afropunk music festival in Brooklyn, photography trips to the South, as well as to view the solar eclipse's path of totality and creative development in graduate school and beyond.
"Throughout our conversations, a common thread was the impact of Stanford's creative community upon all of our work, then and now."
This year, like every year, students take Miller's New York City Seminar, choose two additional elective courses and complete an internship.