The Avery SPOT Pavilion Lands on Columbia's Morningside Campus
The Avery SPOT pavilion—recognizable by its 600-pound, LED-illuminated canopy that hovers between Fayerweather, Schermerhorn, and Avery halls—has arrived on Columbia's Morningside campus. The design emerged out of a meeting hosted by the Graduate School of Architecture, Planning, and Preservation at the start of the spring 2021 semester, which challenged advanced architecture students to envision spaces for relaxing, gathering, and learning in a post-COVID era.
About 150 students submitted proposals. Their work, on display in GSAPP's online End of Year Show, playfully rebels against Morningside's classical McKim, Mead & White-designed buildings. With curving forms and ethereal materials such as air-filled globes, mist machines, and colorful fabrics, the designs activate the buildings' red-brick surfaces.
GSAPP Professors Laurie Hawkinson and Galia Solomonoff pushed the students' ideas further with a seminar, The Outside Project, offered as part of the school's technology course sequence.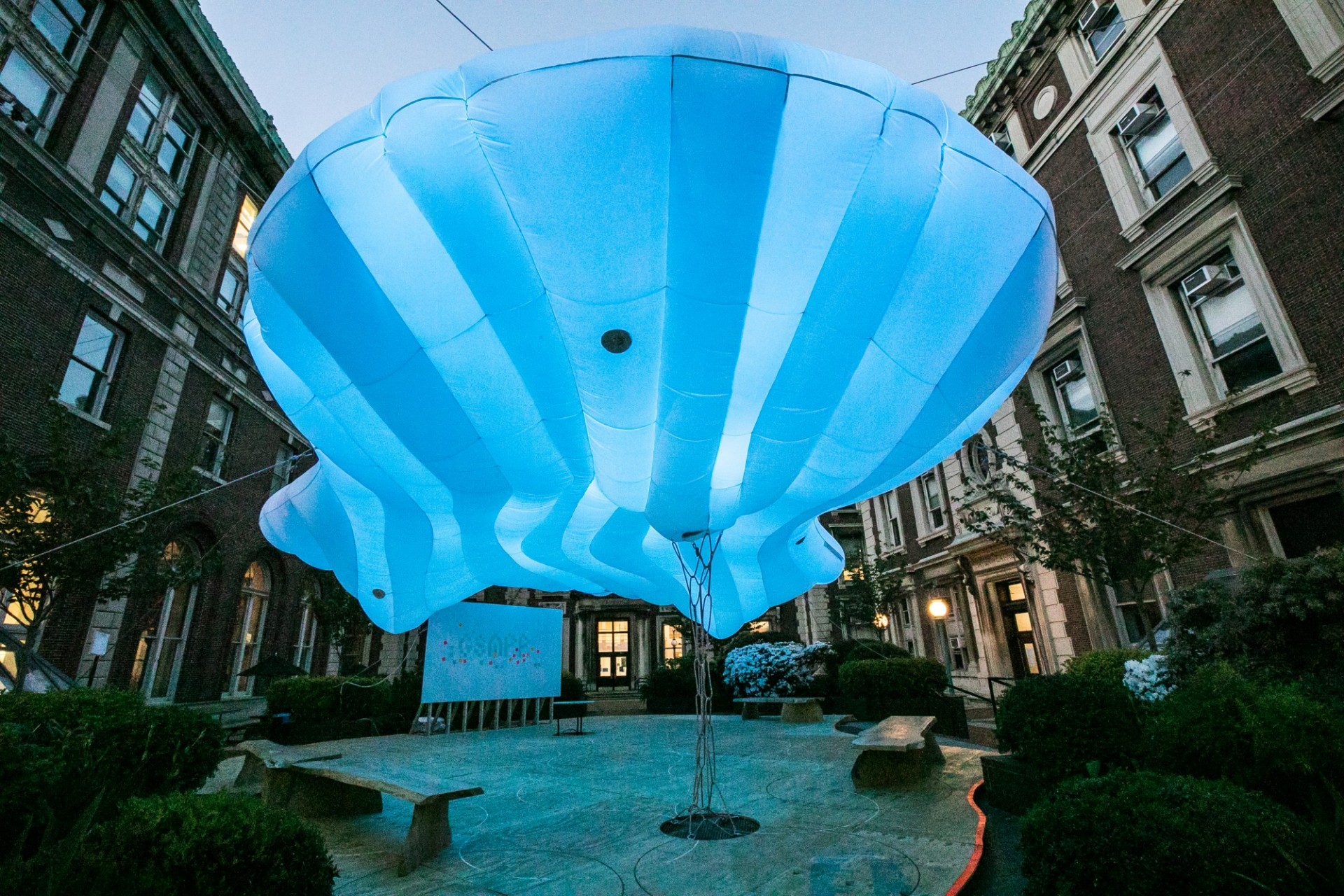 "The energy of that initial meeting gave everyone a wealth of ideas and thoughts to take forward with The Outside Project," said Solomonoff. "The design process was collaborative from the start of the seminar, and became more so as we moved along into construction."
Squeezing the production schedule into a single academic semester necessitated quick decisions. The canopy design was prioritized to accelerate Spain-based manufacturer Àrea Cúbica's off-site fabrication efforts, followed by the plywood platform and cedar benches. Throughout the seminar, student teams selected suppliers and manufacturers, and worked with them to oversee the fabrication processes and delivery.
Student Kaeli Alika Streeter, a member of the furniture team, explained: "I traveled to a lumber yard in Dover Plains, New York, with my collaborator, Vera Savory, to hand-select four cedar, live-edge slabs, negotiate our budget, and meet Robert Rising of NYCitySlab. The goal was to source local materials and present natural textures and shapes to contrast with the materiality and fabrication of the inflatable."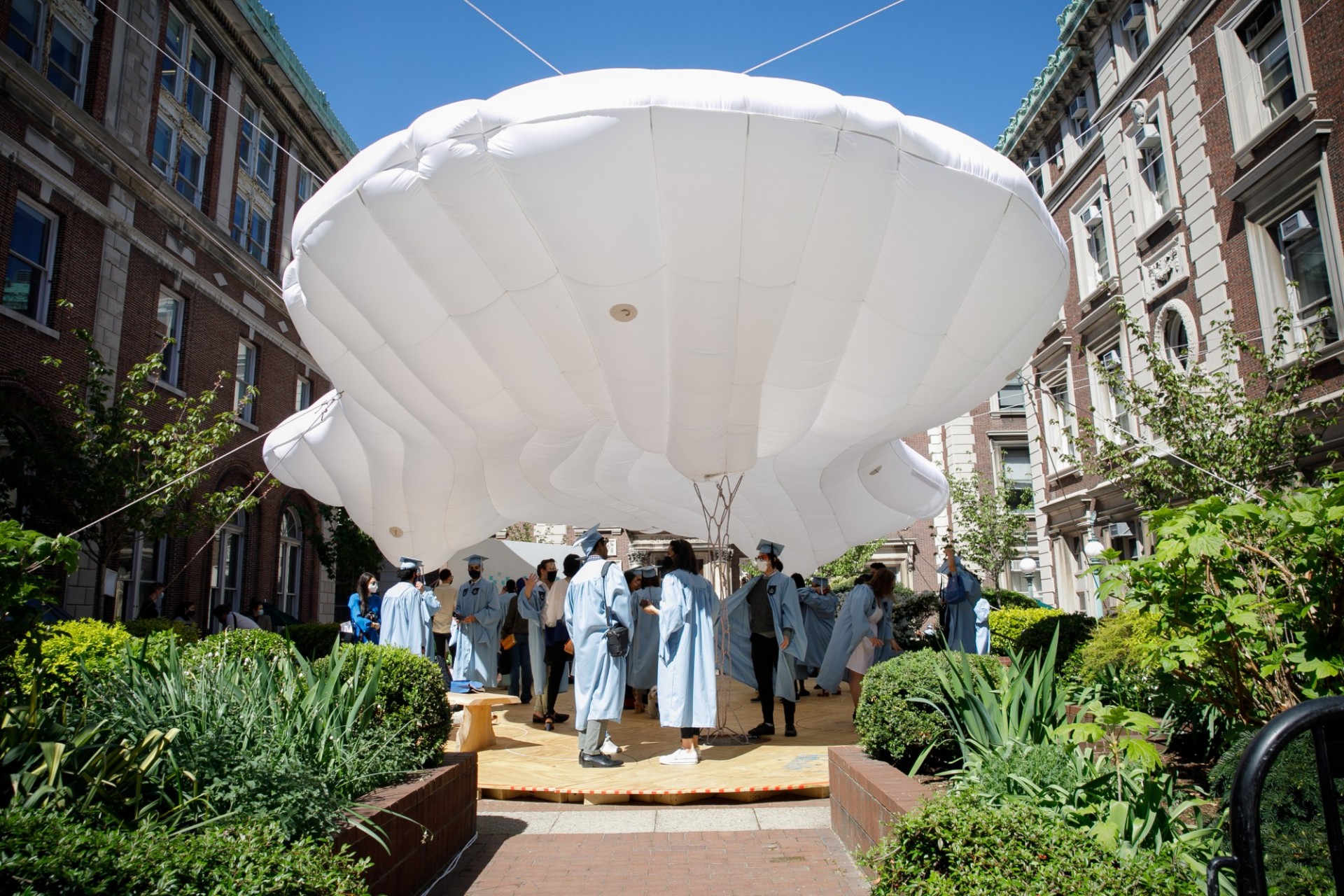 "The immersive and visceral reconnection with the many facets of the pavilion's fabrication has reminded me where my true passion lies within the vast field of architecture—embedded directly in its making, production, and realization," said Blake Kem, another seminar student.
All 21 students enrolled in the seminar participated on-site except for Zina Berrada, who Hawkinson and Solomonoff credited with contributing essential light-and-PV-related efforts while working remotely from Morocco and Montreal. The biggest challenge that emerged was the abrupt closure of a steel fabrication shop following a staff member's COVID diagnosis, necessitating a last-minute search for an alternate supplier. Otherwise, the social distancing restrictions mandated by the pandemic provided even more impetus to complete the project.
"Everyone was especially excited and motivated to make this happen," said Hawkinson. "Construction has a different dynamic than designing. One needs consensus and teamwork to build or move anything. The students were very engaged and organized, and they worked incredibly hard."