University of Auckland takes a large slice of international PIE
Despite the well-documented challenges of attracting and supporting international students due to Covid-19 border restrictions, the University of Auckland has been shortlisted in three categories of the 2021 PIEoneer Awards.
The international PIEoneer Awards celebrate innovation and achievement across global education. They recognise individuals and organisations pushing professional standards, evolving engagement, and redefining the international student experience. Running for the fifth year, the 19 awards include diversity and sustainability, digital and marketing innovation, and student support.
The University of Auckland has been announced as a finalist in the Public/Private Partnership, Championing Diversity, and Employability International Impact categories.
International Office director Brett Berquist said that the University should be proud of these results.
"It's been a very challenging time to provide the level of academic teaching and learning, and pastoral care that our international students expect from this University. However, through adapting quickly to the circumstances introduced by the Covid-19 pandemic, and with the support of academic and professional staff, particularly the International Office, we have provided demonstrably outstanding support. Our students are more than satisfied, our international student numbers are very positive and we have been recognised by the international community with these Award shortlistings."
The University is a finalist in the following categories:
Public / Private Partnership – University of Auckland and China Learning Centres
Early in 2020, New Zealand's border with China was closed before the start of the academic year. Nearly half the University's expected cohort of 4,000 Chinese students was unable to reach campus. A quick shift to online delivery for these offshore students ensured the continuation of teaching and learning.
Following student feedback about the challenges of staying motivated and the need for social interaction, the University instigated multi-lateral partnerships to develop China Learning Centres (CLCs). These provided students with a hybrid learning experience: online study with Auckland academics but the social experience of being on campus, with local learning and pastoral-care support.
Rapid deployment during a time of no international travel was achieved because of the strength of previous relationships developing joint programmes and initiatives with partner universities, Southwest University in Chongqing and Northeast Forestry University in Harbin, together with broker agent Australian Education Management Group (AEMG). These joint programmes were recognised by the Chinese Ministry of Education. The University also established a centre at Nanjing University of Science and Technology in Jiangyin and ran a semester on the northern hemisphere calendar, allowing students to begin their studies after finishing the Chinese Gaokao.
Pass rates for China Learning Centre students were 95 percent compared with 90 percent for those who studied online alone. Withdrawal rates were also lower and contributed to overall higher retention rates than originally forecast. 350 students enrolled in our China Learning Centres in the second semester of 2020 and more than 600 in Semester One 2021.
The University of Auckland finished 2020 down only 8.5 percent on the previous record year of international enrolments, and was 9 percent up at the start of 2021, despite a trend of 20 to 40 percent drops in new enrolments for most of New Zealand's universities.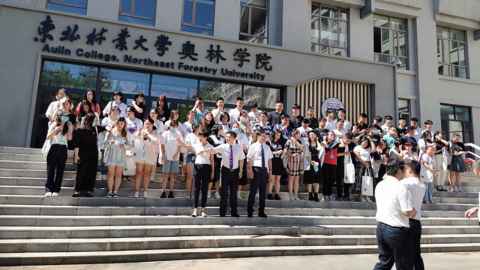 Championing Diversity
In alignment with Māori principles of partnership, participation and protection underpinning Te Tiriti o Waitangi/The Treaty of Waitangi, the University of Auckland is committed to promoting Māori presence and participation in all aspects of University life. Recognising the value of learning abroad to personal, academic and career development, the University has partnered with iwi and Māori leadership to develop and deliver a strategy to grow Māori student participation in learning abroad.
Through research, surveys and focus groups, we identified key barriers to participation and implemented strategies and programmes to address these. This included targeted marketing and communication campaigns, peer advisers, dedicated support and accessible programmes.
We also introduced dedicated scholarships for Māori and Pacific students and developed programme offerings to enable short-term participation for students with family, work or church commitments.
The University's 360 International team was gifted a whakataukī (proverb) for their strategy by Māori leaders at the University: Ko te pae tata, whakamaua, kia tīnā, Ko te pae tawhiti, whaia, kia tata/secure the horizons that are close at hand and pursue the more distant horizons so they may become close.
In January 2020, we launched an in-person programme designed to offer a gateway to outbound mobility for under-represented Māori and Pacific students. Two years in the making, this initiative is about the next generation of New Zealand's leaders connecting with indigenous communities across the Pacific. It aims to strengthen students' understanding of and pride in tikanga Māori, which enriches and enlivens the University's campuses and is fundamental to New Zealand's identity.
The Covid-19 pandemic meant learning abroad in 2020 was almost all virtual, although a cohort of 20 Māori and Pacific students travelled to Brazil for an indigenous rights programme in January.
Ko te pae tata, whakamaua, kia tīnā, Ko te pae tawhiti, whaia, kia tata / Secure the horizons that are close at hand and pursue the more distant horizons so they may become close
Employability International Impact
The University of Auckland Virtual Internship Project pilot was a work-integrated learning initiative that gave international students (both in New Zealand and offshore) the opportunity to work on real business challenges with the support of interactive learning content and dedicated mentor feedback.
The pilot project was delivered on behalf of the University of Auckland by Global Talent Solutions, specialist early-talent consultants, during the inter-semester break in July 2020. The programme design was structured according to Kolb's theory of Experiential Learning, which included a series of reflection activities. By embedding a pedagogical approach into the learning design, the programme provided an integrated learning experience for participants that not only addressed essential 21st century skills, but also facilitated reflective and feedback-informed practice.
International students were selected from a range of disciplines and split into 20 teams of five, comprising 78 onshore and 22 offshore students.
Organisations were assisted with the developing at least one case study project brief for their assigned teams to work on during the project. These ranged from marketing plans, to cost-benefit analyses, to live construction redevelopment projects, and many more. Over the course of the internship, students worked with both a 'mentor' and a 'client' from the organisation as they worked towards producing a project report and presentation in response to the client brief. Students, mentors, and clients received ongoing training and support to develop personally and professionally, collaborating virtually using a bespoke platform.
The Covid-19 lockdowns meant an entirely online model succeeded in bringing together students in New Zealand and offshore to work with Auckland-based companies. The project enabled the connection of online students with each other and the city, and enhanced their future employability.
The pilot evaluations were very positive, and the programme has been repeated twice, involving a further 400 international students. The University will now fund 1500 microinternships for international students each year in 2021 and 2022. These places will be allocated 90% to offshore international students and 10% onshore.
The 2021 PIEoneer Awards will be announced on September 3 2021.