University of California Health (UCH) medical, nursing and public health schools achieved national recognition in the latest U.S. News & World Report rankings of Best Graduate Schools for 2022. The rankings are one measure of a school's quality, and prospective students often refer to them when deciding where to apply.
This year's ranking of medical schools includes a new diversity index, created to measure progress in enrolling students from underrepresented groups and creating a future health workforce that better reflects the general population. Four UC schools of medicine scored in the top 10 nationally for diversity, with UC Davis ranked fourth, UC Riverside sixth, and UCLA and UCSF tied for ninth.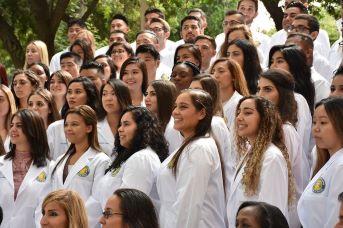 "To make progress toward health equity, we must have health care providers who reflect the diversity of our communities. We're pleased that University of California Health medical schools are leading the nation in making progress toward increasing diversity by encouraging students from underrepresented groups to apply," said Dr. Carrie L. Byington, executive vice president of UCH and an infectious disease expert. "At the same time, we know much more work to eliminate disparities and increase inclusion needs to be done. As a system, we are committed to creating opportunities for all."
Additionally, in the graduate school rankings, the UCSF School of Medicine again was recognized as one of the nation's leaders for primary care (second) and research (fourth). Master's degree programs at UC's four schools of nursing all rose significantly in the rankings this year, with Betty Irene Moore School of Nursing at UC Davis, UCLA School of Nursing and UCSF Nursing, and all scoring in the top 25 nationally. Also recognized among the 25 best were public health graduate degree programs at UC Berkeley School of Public Health, UCLA Fielding School of Public Health and UC Davis.
"Having a diversity of backgrounds and perspectives in our academic, research and training programs is essential to combating systemic racism and improving health outcomes," said Dr. Cathryn Nation, vice president for health sciences and one of the authors of "Disrupting the Status Quo," a report recently presented to the UC Board of Regents about the need for increased diversity, equity and inclusion in the health professions. "Disparities in health are substantial and continue to result in adverse outcomes for underrepresented groups and communities."
Training provided through health professional schools is essential to UCH's goal of addressing the severe shortage of health professionals across the State. As the U.S. News rankings show, UC is helping the State address the need for quality health care, given that more than 70 percent of UC health professional school graduates choose to remain in California. U.S. News' most recent rankings contained updated ratings on graduate programs in medicine, nursing and public health, and included key recognitions at UC campuses:
U.S. News each year evaluates professional graduate schools using two types of data: expert opinions about program excellence and statistical indicators that measure the quality of a school's faculty, research and students. The index of most diverse medical schools was included for the first time in this year's report, along with three other new types of rankings assessing how medical schools are performing on key health care issues they and their graduates face, according to U.S. News. The Robert Graham Center, a division of the American Academy of Family Physicians, was the data provider for these new types of scores.