Digital ingredient gives Valentine's chocolates personal flavour
Computer scientists have teamed up with a Nottingham chocolatier to add personalised digital content to Valentine's chocolate gifts.
The Mixed Reality Laboratory at the University of Nottingham has developed the Hybrid Gifting platform as part of a larger research project with multiple partners. The platform has been developed to allow people to create a personalised multimedia digital gift to send along with a physical gift. This can be up to four pieces of content in any combination – from a favourite song or special photos to bespoke audio and video content.
The university trialled the platform for the first time with Studio Chocolate in Nottingham to offer a hybrid chocolate Valentine's gift. Studio Chocolate's beautifully designed, handmade Hybrid Artist Chocolate Collection was offered with a unique link to a web page where the customer could easily add or create their own content. Along with the chocolates, the lucky recipients will receive a QR code that will open and play their digital gift.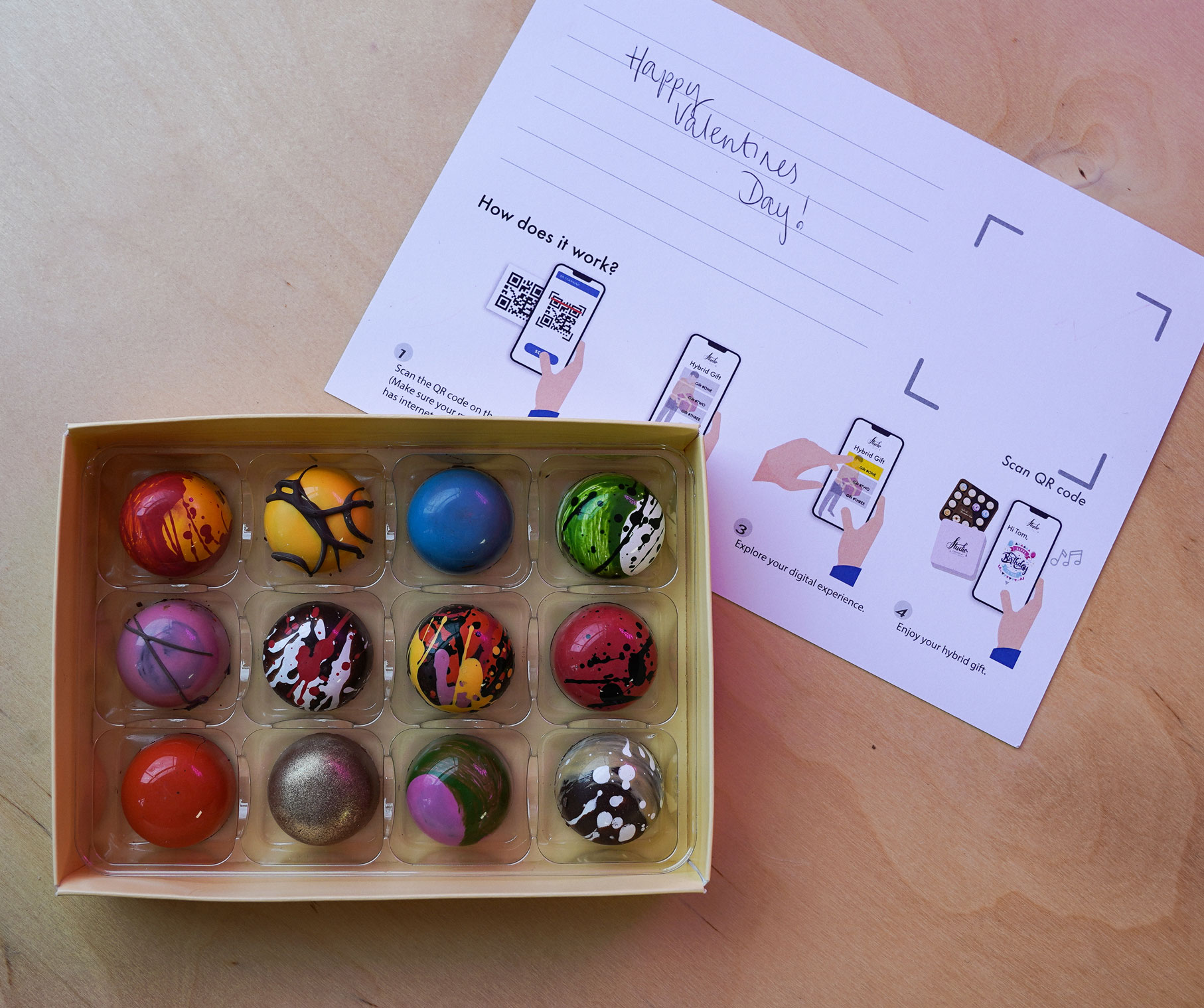 Dr Jocelyn Spence from the University of Nottingham said: "This past year has shown us more than ever just how important digital platforms are for maintaining personal connections with people. Our Hybrid Gifting platform offers a new way to combine the physical gift with the digital to create a unique and personal experience."
Ellie Wharrad, Le Cordon Bleu-trained chocolatier and owner of Studio Chocolate, said: "Chocolates are always a popular Valentine's gift, whether it's for a DIY date night, a Galentine's Day treat, or anyone else you want to show some lockdown care to. It's been really exciting to be able to offer the Hybrid Gift, which has allowed our customers to add a truly personal touch to their gift, which during these difficult times will be extra special."
The Hybrid Gifting research project has been funded by the EPSRC and aims to create opportunities for UK companies to innovate new products and services in the global marketplace. Through collaboration with commercial and third-sector partners, the researchers will explore how a range of different types of product might become hybrid gifts: fast-moving consumer goods, hand-crafted high-value artisan products, luxury food gifts, and local experiences, each of which could be coupled with a digital component that would enhance its value to both giver and receiver.
Dr Spence continues: "Digital gifting online (giving media such as music, video, images, games and subscription accounts) is still in its infancy, but is a rapidly growing sector of the market. Digital gifts, however, fail to be appreciated as gifts as much as their physical counterparts do, and as such are easily forgotten, and rarely reflected on or reciprocated. We are collecting feedback from our collaboration with Studio Chocolate to refine the Hybrid Gifting platform and develop alternative concepts so we can create, give, enable, sell and study these new products to understand their use and value, and generate a gifting toolkit to support hybrid gifting processes for use by the community."