For COVID-19 recovery and beyond ― Sharing Tokyo Tech research through the New Normal Research Map
With the advent of COVID-19, humanity is seeing various shifts in society that are becoming the "new normal". In response, Tokyo Tech has created the New Normal Research Map
, introducing Tokyo Tech research that will contribute to COVID-19 recovery and beyond.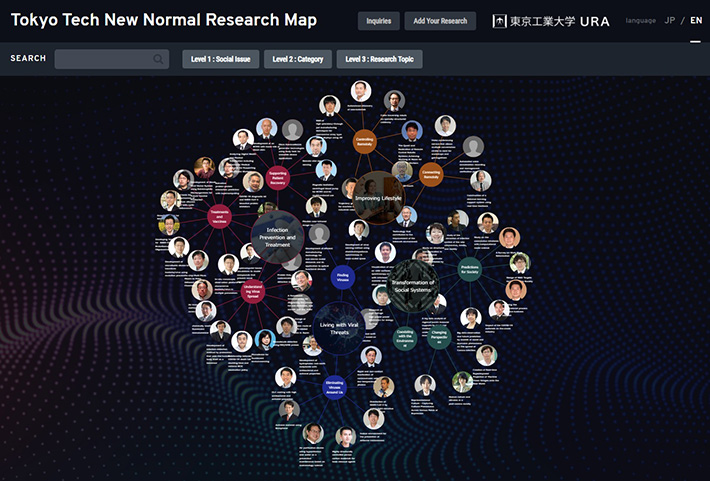 Aiming to contribute through science and knowledge
Tokyo Tech engages in a wide variety of research topics, many of which have relevance to COVID-19 and the new society that will follow, as well as resulting changes in people's behavior, values, and worldviews.
The New Normal Research Map is a tool that will allow Tokyo Tech to share its profound and diverse research with others. It was created in the hope of bringing together knowledge from numerous disciplines to overcome present challenges and find solutions to arising social issues.
An easy-to-understand three-tier map
Rather than grouping by academic field, the map is organized by social issue, providing an easy-to-understand experience.
The map consists of three levels. Level 1 corresponds to the social issues to be addressed. Level 2 provides "categories" of approaches to solving the issues. And level 3 shows details on each Tokyo Tech research topic within a category.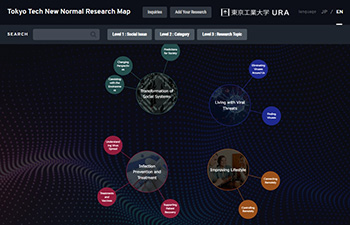 With social issues at level 1 and categories at level 2, buttons at the top of the map allow you to switch views.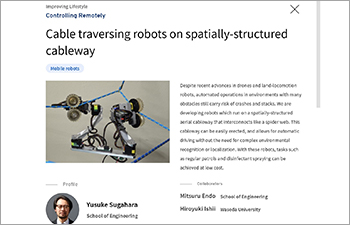 Research Topics: By clicking on a research topic, users can view details on the research.
Towards a new era for humanity
Connecting social issues and research solutions, the map will support a research community that transcends disciplines and promotes collaboration. Joint academic research, industry-academia collaboration, and other innovative endeavors are expected.
We invite you view the New Normal Research Map and see how Tokyo Tech researchers are working to create a safer and more sustainable new normal era.