Sternlicht Commons and Brown University Health & Wellness Center dedicated in weekend events
University leaders and community members gathered for a series of events, tours and receptions that celebrated an innovative new space committed to helping students thrive.
 In a series of events, tours and receptions held at 450 Brook St. in Providence on Thursday, Oct. 21, and Saturday, Oct. 23, Brown University leaders, generous donors and community members gathered to dedicate a unique residence hall and student services hub devoted entirely to promoting health, happiness and well-being for Brown's full student population.
The events offered the opportunity to celebrate Sternlicht Commons and Brown University Health & Wellness Center and the impact of everyone who enabled its creation.
The idyllic autumn weather added festivity to the celebrations: Golden light shone down the center's wide, neutral-toned corridors, streamed through walls of windows and beamed on relaxing rooftop and ground-floor green spaces. It provided a reminder, Brown President Christina H. Paxson said, that there is a strong connection between happiness and environment, a key motivator in constructing Sternlicht Commons and Brown University Health & Wellness Center.
"This building is more than a building," Paxson said at the Thursday event. "It's the representation of a core principle: that students thrive academically and socially when they're healthy, when they're supported, and when they're connected to communities in meaningful ways. That's the principle we had in mind when the vision for this wonderful space was conceived."
The new facility, Paxson said, is "wildly innovative" in the way it embeds health and wellness within a residence hall. First opened in May 2021, the bright and airy complex is now home not only to 162 Brown students, but also to numerous programs and services instrumental to students' physical and emotional well-being, including Health Services, Counseling and Psychological Services, Brown Emergency Medical Services and BWell, the University's health promotion program.
The building, between Cushing and Meeting streets, is directly adjacent to green space on Pembroke Field, a short walk to Brown's Erickson Athletic Complex, and just a block away from College Hill's bustling commercial district on Thayer Street. The residence hall — the first campus residence to be newly opened in 30 years — boasts suites with single rooms and standalone singles, single bathrooms, and open common areas that feature bright natural daylight and views of Pembroke Field. It also includes state-of-the-art common kitchen areas.
The project was enabled by generous financial support from two lead gifts — a donation from the family of the late Duncan MacMillan, and a gift from Barry Sternlicht and Mimi Reichert Sternlicht — which enabled Brown to advance the concept from a vision into a completed building.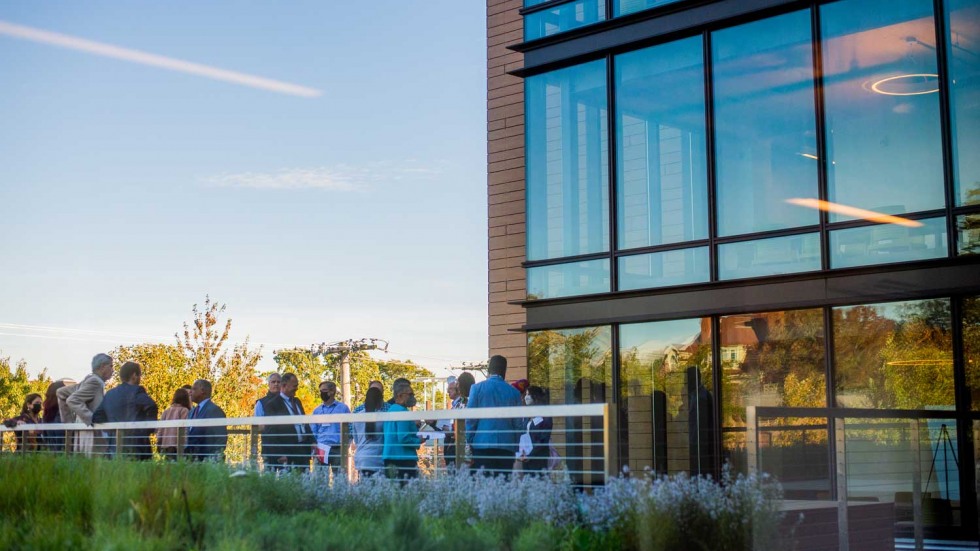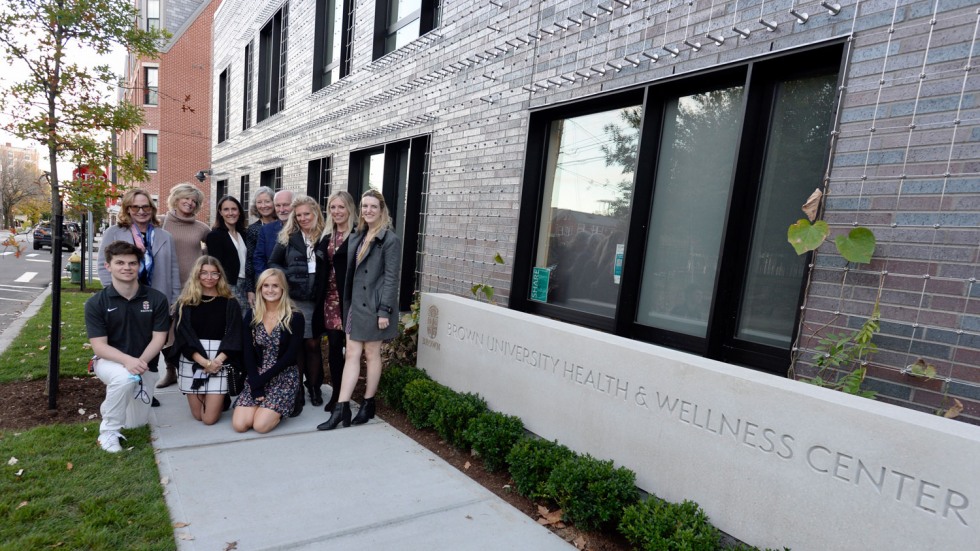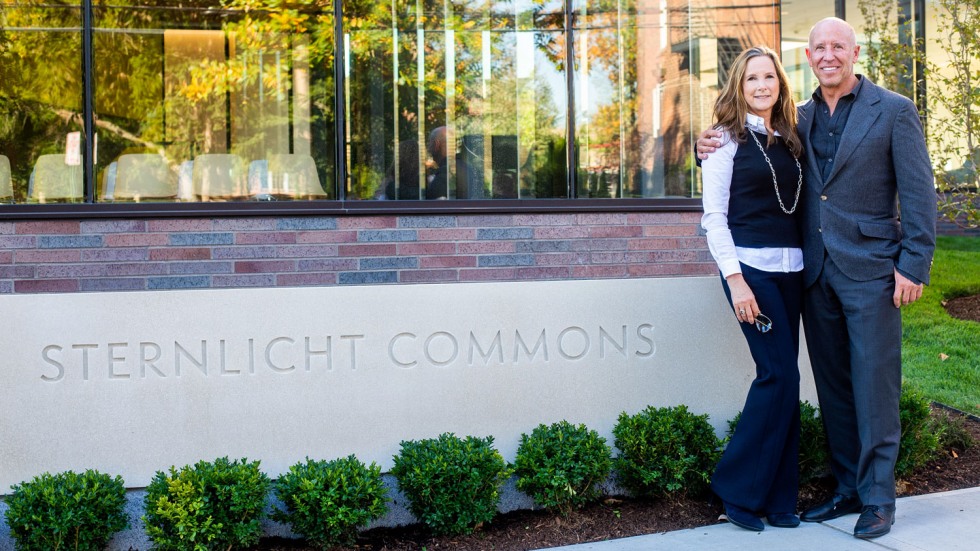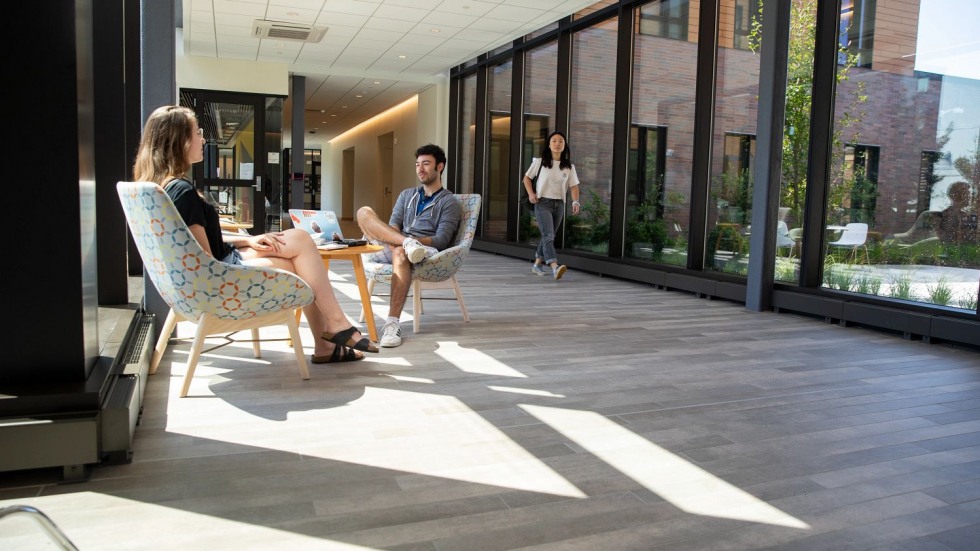 MacMillan — a Class of 1953 graduate, trustee emeritus of the Brown Corporation and longtime University benefactor — had always been passionate about promoting a balanced, healthy life, members of his family noted during a Saturday tour of Sternlicht Commons and Brown University Health & Wellness Center. MacMillan, an avid ice hockey player, chose as an undergraduate to study classics — a subject he enjoyed greatly, but also one with a class schedule that ensured his ability to make every hockey practice on time.
"Through our collective passion for health and wellness, we are proud to work with Brown to present a world-class program and center dedicated to bringing students the skills and resources they need to succeed, both in their academic pursuits and in their happiness and well-being," MacMillan's family members said in a statement. "The Brown University Health & Wellness Center is dedicated in honor of our father and grandfather, who was deeply committed to promoting a healthy lifestyle in order to pursue one's dreams to the best of their ability. We believe it will not only enhance the lives of students during their time at Brown, but beyond in their pursuits, and showcase the University's comprehensive leadership in health and wellness for many generations to come."
Brown alumni and parents Barry Sternlicht and Mimi Reichert Sternlicht have also prioritized physical and emotional health in many decades of work, volunteering and philanthropy. As the founder of Starwood Hotels and Resorts Worldwide, Class of 1982 graduate Barry Sternlicht became an early leader in creating hotels that focused on both environmental friendliness and guest wellness, believing design and well-being are intimately connected. And as co-founder of Bread Ventures, Class of 1983 graduate Mimi Reichert Sternlicht helps business owners understand how their physical spaces can energize, renew and inspire.
Speaking at the Thursday event, Barry Sternlicht, a two-time trustee of the Brown Corporation, said he believes prioritizing wellness is even more crucial for college students today, as they face an overwhelming number of potential career paths amid increased distractions.
"Brown's strength… has always been that you can do anything you want," said Sternlicht, making reference to Brown's Open Curriculum, which enables students to build their own course of study. "That gets confusing for young people. It was confusing for me! I think having somebody you know who cares about you and who can be there for you — even if you don't access them, but you know they're there — is important. It's critical to know that your school… cares about you from the first year right through to figuring out what to do with your life."
Thriving Together
Sternlicht Commons and Brown University Health & Wellness Center combines residential life with health services for a holistic wellness experience.
Housing all of Brown's core health and wellness services in one building, alongside student residents who are committed to promoting healthy lifestyles in the Brown community and beyond, has already created opportunities for deeper collaborations that are positively impacting students, said Dr. Vanessa Britto, associate vice president for health and wellness at Brown.
"Having an opportunity to work together in new ways has been incredibly energizing for us — whether it's the ability to literally walk with a student from one service to another, initiating a warm referral, or having a wonderful serendipitous moment with a student who lives in the building," Britto said Thursday.
Each of the building's undergraduate residents, she explained, applied to be members of the community, with selections made by a committee of staff and students. During the application process, students described their well-being practices — from meditation to walking, from journaling to cooking shared meals — and described the ways that bringing these practices to a committed health and wellness community appealed to them.
In addition to residence hall leaders, undergraduates living in the new building have access to five wellness peer education coordinators, who are already helping residents bring their varied wellness practices to their living community. Eric Estes, vice president for campus life and student services, said group initiatives already underway include dance, meditation, journaling, spiritual wellness discussions, cooking contests, recipe sharing and mindful walking.
"When students encounter this building, there is no wrong door," Britto said. "We want them to feel confident in knowing that, just by the nature of this space, we've wrapped services around them, and we'll help them find who or what might be helpful.
"The ideas, the aspirations, the teams of people, the services are now brought together in this beautiful, state-of-the-art facility," Britto said, "to partner, to work with and to inspire students to reimagine what it means to live and learn in a community that values the whole of who they are as students at Brown, and who they will become as vibrant, caring members of the Brown University family."